Featured
SCTB Highlights of 2015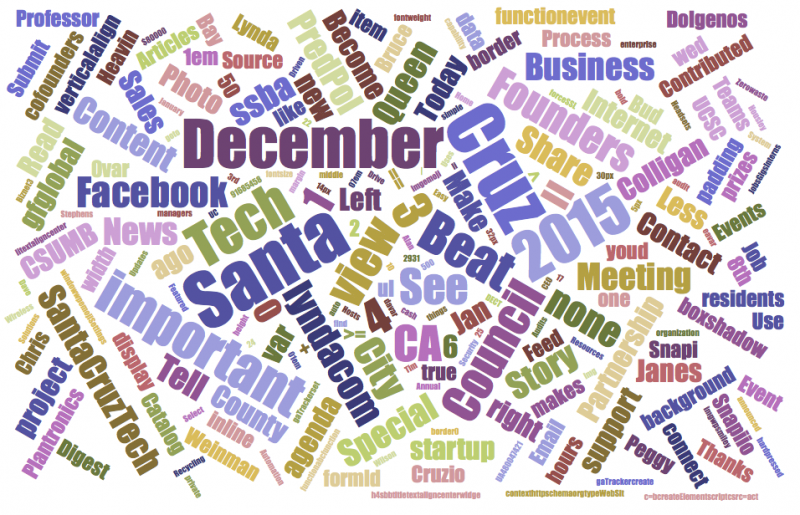 By Sara Isenberg
Founder, Publisher, Editor-in-Chief, Santa Cruz Tech Beat
December 17, 2015 — Santa Cruz, CA
Now that I've been publishing Santa Cruz Tech Beat (SCTB) for 2 1/2 years, my memories of "what-happened-when" are starting to blur. So in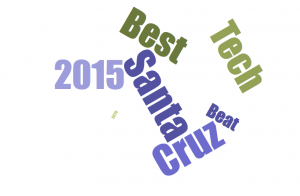 preparation for this annual review, I went to our Historical News page to refresh my memory on what actually happened in 2015. It was also fascinating to check back on our Best of 2014 and Best of 2013 articles. I think you'll find those old reviews interesting or entertaining. As always, you can join the conversation on Twitter or Facebook or contact me if you think an important item of news was overlooked. Don't miss the Editor's Favorites section at the bottom of this page. — Sara
Here are the local tech newsmakers of 2015
Fiber! Fiber! Fiber!
Companies
Looker closes $30M, expands into 3rd floor of The Ritt, and all that jazz
Futuristic Lights asks for $20K on KickStarter and ends up with over $61K
Amazon comes to Santa Cruz
Seabright Companies acquires Isentio/Pathogenix and SnapPost
Cityblooms and Plantronics
Events
The Drones Data X Conference
The Santa Cruz New Tech Meetup

SCNTM continues to knock it outta the park month after month, hosting a dynamite networking event for locals in tech.
Monterey Bay Economic Partnership
Organizations and Hubs
UCSC's Genomics Institute
Santa Cruz City and County Economic Development Departments
Makers: MakersFactory and Idea Fab Lab
Editor's Favorites
###
If you wish to republish this article, please follow our Terms of Use.
###