Companies
Futuristic Lights Presents Æther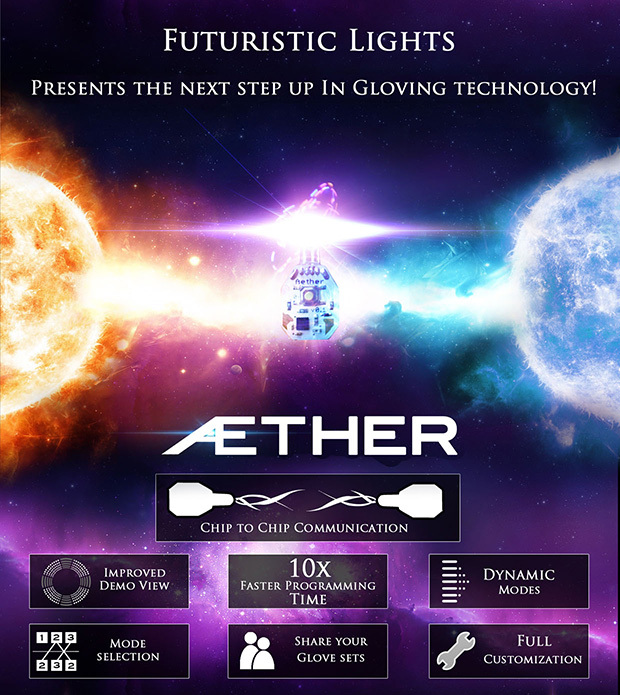 By Kevin Karplus
Proud dad of one of the founders of Futuristic Lights and Professor, Biomolecular Engineering, UC Santa Cruz
December 16, 2015 — Santa Cruz, CA
[Editor's note: Futuristic Lights is a home grown local startup that Santa Cruz Tech Beat has been covering since they emerged on the local scene in 2014. They had a successful Kickstarter campaign earlier this year.]
Last night, my son's company launched their second product, another microlight for glovers: the Æther.
Just as their Kinetic microlight was the first one to incorporate an accelerometer and was quickly copied by Emazing Lights (though not very well), their new light introduces new technology also: light-to-light communication. This allows glovers to program one light, then transfer the program to their other lights (making for about 10× faster programming). It also allows glovers to share their programs with friends in a second or two, and to store extra programs in spare lights, so that they can quickly reprogram their gloves between shows.
They did a live event for the product launch down in Los Angeles. I tried to watch the livestreamed product launch last night (Dec 12), but they had problems getting Twitch to work and switched to using Periscope.  They did not release the URL for the Periscope feed, though, and Periscope has an awful web site (they want people to buy the app). The URL for the feed is https://www.periscope.tv/w/1OyKAmjrXgyKb, which I found using the search capabilities of PersicopeViewer. It is still possible to watch the recorded feed, but the launch info itself doesn't start until about 44 minutes into the recording, and the Periscope recording died about 15 minutes later, while they were talking about the price.
The demo video that they showed at the launch is available on their Facebook page.
According to their store a set of 10 lights with casings, diffusers, gloves, batteries, and bag costs $139.95, but I understand that there is a sale on: if you enter the promo code GAMECHANGER, the price is reduced to $100. I don't know how long that promotion is supposed to last, though. A set of 12 lights (useful for providing storage for extra programs) is $164.95. They don't seem to be selling single lights yet, but I suspect they'll add that option eventually, since glovers will want them as a library of stored programs.
The site also has a good description of the product, with its 38 colors, 15 colors per mode, 13 modes, and 7 slots. (Each slot holds one mode and the associated 15 colors, and transfers can be done either for a single slot or for the entire set of 7 slots.) The 38 colors are the full brightness colors—there is also a brightness control for each color.
It has been about a year since they did the Kickstarter for the Kinetic, but this time they avoided the Kickstarter fees, funding the manufacturing from the proceeds of sales of the Kinetics. They've also improved their relationships with manufacturers in China and figured out supply-chain problems in advance, so that they could get these boards made at a reasonable price before the product launch—they can start shipping immediately (well, on Monday, after they get back from LA). Getting a better handle on manufacturing has also meant that they can bring out the new product cheaper than the Kinetics.
There were a number of difficult technical challenges in designing the lights (mainly software, rather than hardware), so I think that it will take Emazing Lights a while to duplicate. Since Emazing Lights has a wad of venture capital from their Shark Tank episode, plus about 100× the sales of Futuristic Lights, they will be able to hire full-time engineers to try to duplicate what my son did in his spare time while he was a student at UCSB. I suspect that it will take them about 4 months to come up with their knockoff product, and it won't be as good (just as Emazing's accelerometer-based microlight is not as good as the Kinetic).
Right now, Futuristic Lights is making money, but all the money is being plowed back into the business—most of those associated with the company have only sweat equity, not salaries. I suspect that it will be another year or two before Futuristic Lights has enough of a revenue stream both to sustain the company and pay salaries, assuming there are no startup disasters along the way.
I have no idea what their next product will be (well, they announced that they will be selling their own casings in a few months—what I meant is that I've no idea what their next major product will be), but I do know that they have a lot of ideas still. I suspect that they are going to continue to try to stay at the high end of the market—they'd have a hard time competing with bigger, more established competitors on commodity products, where they could be easily be killed in a price war. As long as they can keep coming out with innovative products, they should do ok.
This article was originally published here: https://gasstationwithoutpumps.wordpress.com/2015/12/13/futuristic-lights-aether/
###
Tagged Futuristic Lights