Featured
Genomics Institute Hires New Managing Director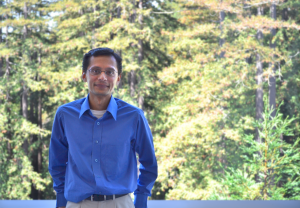 By Branwyn Wagman
Genomics Institute, UC Santa Cruz
(Photo above: Ravi Jain, new managing director at UCSC's Genomics Institute, comes to UCSC after serving as president and CEO of cBio, a software development and bioinformatics consulting firm he co-founded. Source: Genomics Institute website.)
Ravi Jain brings business and scientific expertise to the UC Santa Cruz Genomics Institute
August 27, 2015 — Santa Cruz, CA
The UC Santa Cruz Genomics Institute has taken on a new managing director, Ravi Jain, to serve alongside scientific director David Haussler and oversee the institute's strategic planning, business development, and operations, among other responsibilities.
Jain comes to UC Santa Cruz after serving as president and CEO of cBio, a software development and bioinformatics consulting firm he co-founded. He holds a Ph.D. in molecular evolution from UCLA.
"As managing director, Ravi will play a major role in the development and growth of the genomics institute," David Haussler said. "He will lead us as we take on the many challenges associated with developing the global platform for genomics—as we coordinate, analyze, and make available the volumes of sequencing data and related clinical information generated by genomic projects from around the world."
Jain's experience at cBio relates directly to this new role. With its mission of enhancing public health, cBio applied bioinformatics to problems of microbial diagnostics and biosurveillance, including processing, analyzing, and visualizing data from multiple next-generation sequencing platforms.
"The Genomics Institute is an important initiative at UC Santa Cruz, building upon our successes in the human genome project and applying them to many important problems, including precision medicine and cancer treatment," vice chancellor of research Scott Brandt said. "Dr. Jain's solid scientific and business experience will help elevate UC Santa Cruz's genomics efforts to the next level."
Continue reading article here: https://genomics.soe.ucsc.edu/news/article/162
Tagged Genomics Institute, Ravi Jain, UC Santa Cruz