Events
Mr. Martinez Goes to Washington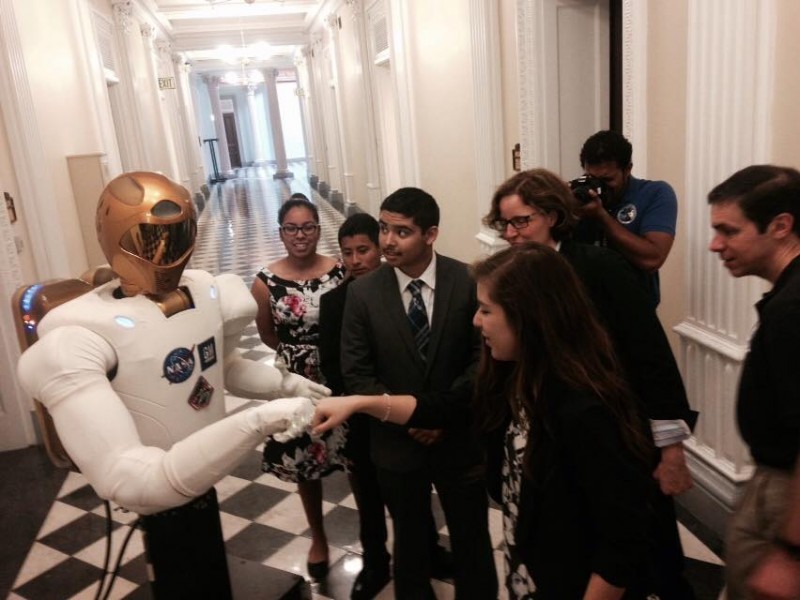 By Sara Isenberg
Editor-in-Chief, Santa Cruz Tech Beat
(Photo above: Digital NEST members at the White House with Megan Smith, CTO of the United States, and a NASA robot. Contributed)
Digital NEST at the White House!
Jacob Martinez, Executive Director of Digital NEST, was at the White House (yes, that White House) this past week with Alan Guzman and Juan Castillo, Digital NEST members, David Patino, their teacher from their high school AVCI, and Tony Sandoval, their robotics mentor.
Along with youth from across the country, they were invited to watch Underwater Dreams at the White House in celebration of National Robotics week.
Martinez wrote:
Greetings from the White House!

What an honor to be invited to the White House with other tech leaders and students to a special screening of the documentary Underwater Dreams, in celebration of National Engineering week. I have been meeting amazing people, talking about Digital NEST and conferring with policy-makers and technology leaders from around the country.  Your support led to this opportunity.

We were able to bring with us two Digital NEST members, Alan, 17, and Juan, 17; their teacher from AVCI high school, and their robotics mentor Tony Sandoval, who has his own little start up called Farmbotix. The NEST members are juniors in high school and I know this experience will be with them forever. They received the royal treatment and even walked away with a box of rare White House Hersey Kisses. Alan said, "The hard part is going to be finding some place to hide them from my family." The photo is of the five of us outside the West Wing of the White House.

I've spent a good deal of time with Megan Smith, Chief Technology Officer of the United States and Advisor to the President. Megan is a former executive at Google, and she and her staff share the vision of the NEST.  I have been invited back to the White House next week to the first-ever White House Tech Meetup, hosted by Megan. Technology leaders and community-based organizations from around the country will converge on the White House to discuss ways to build a skilled workforce that can lead innovation in this country You, as a Digital NEST supporter, should feel tremendous pride knowing you are driving a leading-edge initiative that has captured the interest of top tech leaders and policy-makers in the United States.

A word about the film we saw, Underwater Dreams; it reminded me in so many ways of what we are achieving at the Digital NEST. It is the story of four high school students from a low-income community in Arizona who entered a college underwater robotics competition. They faced teams from MIT and other prominent schools and against all odds, won!  In the same way, the NEST is striving to remove barriers, enabling our youth to rise above, and to create amazing futures for themselves and our community.

I am more encouraged than ever about Digital NEST and its potential to give young people the skills and technology they need to create a lifetime of opportunity. Your support of the Digital NEST is vital now! If you can, please make a gift to the NEST today to support us in changing lives and futures here in our community and beyond!  https://digitalnest.fundly.com/digital-nest-launch

With gratitude,
Jacob
Martinez has been invited back to the first ever White House Tech Meetup! Stay tuned for more details!
###
If you wish to republish this article, please follow these guidelines:
Add "The following article by <name of author> was originally published in Santa Cruz Tech Beat" at the top of your copy of SCTB's article and link that text to the original article in SCTB.
If you follow the above guideline (#1), you are welcome to publish a couple paragraphs of teaser text and then "Continue reading in Santa Cruz Tech Beat." and link that text to the original article in SCTB.
Learn more about our guidelines here.
Tagged Digital Nest, Jacob Martinez