Companies
OpenCounter: Taking an idea to the national scale
By Peter Koht
OpenCounter Co-Founder
February 20, 2015 — Santa Cruz, CA
[Editor's note: In a related article, Santa Cruz Tech Beat published OpenCounter: One of 5 Civic Tech Startups to Watch in 2015 (January 23, 2015). The article below isn't just about OpenCounter, it's actually a genuine reflection on how the local tech ecosystem tide raises all boats. Thanks for sharing this, Peter.]
Santa Cruz bats quite a bit above its weight. What other town of 50,000 can boast that it is the birthplace of the camera phone, the wetsuit and the map of the human genome? Local research institutions probe the depths of the oceans and the far reaches of space to discover new exo-planets. Our lifestyle and aesthetic is endlessly copied by fashion brands around the world (try keeping a tally of the number of O'Neill or NHS shirts you see next time you're abroad).
Despite this fame, Santa Cruz is misunderstood when it comes to conversations about business. Our community's casual disregard of the norm may make it a target for cynics, but Santa Cruz's laissez-faire attitude allows for innovation and experimentation, which, in turn, leads to market changing products and services. Just look at Looker (sorry, had to do it) or Nextspace or ProductOps. Every major company in Silicon Valley, from Netflix to Nest, has at least a little Santa Cruz in its DNA.
Our local technology ecosystem is maturing, so that those that do have market-moving ideas can start and scale without being forced to leave Surf City. Over the last few years, as part of OpenCounter (and before that as an employee of the City of Santa Cruz's excellent Economic Development Department), I've been experiencing this renaissance first hand.
OpenCounter, was born out of a desire to improve communications between the public and private sectors. What we do is to build functional web interfaces that speak to the user's specific needs, not the organizational structure of the Agency they must interface with.
Whether you're adding on to a house, planning a parade or opening a new business, OpenCounter give applicants insights into the costs, timelines and complexities of moving that project through the permitting process. Our challenge may not as sexy as the latest wearable, but we're addressing a huge problem that holds back investment in local communities, their economic resiliency, reputation and the growth of the real economy.
Regardless of whether you're starting a business or building a home, the municipal code is the City's operating system. We think that the present interface to this code, namely PDFs, frames based code publishing sites, static maps and hard to access fee schedules lacks functionality.
Expecting applicants to read (and comprehend) the muni code is like asking Mac users to read the OS X codebase. We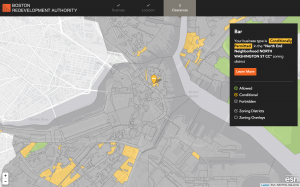 can build better, accessible, transparent interfaces that can parse and customize feedback to users based on location, project type and user defined project parameters. You shouldn't have to fill out 30 PDFs or individually brief each department of a project, nor should you be forced to learn the permitting process one step at a time while gambling a large percentage of your free cash flow.
OpenCounter was born out of the experiences of dozens of entrepreneurs and business leaders in Santa Cruz, piloted by Code for America in 2012, then spun off in 2013 thanks to the Knight Foundation, the rest of the country is now catching up with Santa Cruz.
In December, the City of Boston announced that they will be deploying OpenCounter to improve communications and commercial, residential and special event permit issuance over the next few years. Indianapolis, Indiana, a community of more than 800,000 people is launching their version of OpenCounter in just a few short weeks.
Palo Alto is using OpenCounter to gain insights into the growth and impacts of its incredible startup scene. Beginning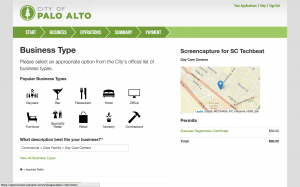 March 2, OpenCounter will be the City's front end for their Business Registry, processing thousands of applications, payments and renewals annually for the City.
We were recently named one of the Top 5 Startups to watch in GovTech Magazine and featured in TechRepublic, for our unique approach to sorting out the complexities of local zoning ordinances using our zoning API. None of this would have been possible without the support, feedback and encouragement that we've received from the Santa Cruz tech scene. Whether it has been mentorship from seasoned local executives, UX feedback from users, local press coverage, or just kind words from our fellow startups in town, you've helped us take an idea to the national scale really quickly, particularly given the challenges of scaling new solutions in the government sector.
We're quite busy configuring new cities like Denton, Texas and building out new features for our current clients, but please follow along at opencounter.com or @opencounter to keep tabs on our progress. We're always open to new ideas and suggestions from our community.
###
Tagged OpenCounter