Event Reciprocity Agreement
Want publicity for your event from Santa Cruz Tech Beat? We can help you get the word out!
If you'd like Santa Cruz Tech Beat to provide any visibility/publicity for an upcoming event, please read this page and reply by email to let us know you're agreeable to this reciprocity agreement, as described below. Along with your email, please be sure to submit your event here. Due to the cycle of our publication, please send any guest feature articles and/or a press release at least 3 weeks in advance of your event. Thanks so much! (*)

Santa Cruz Tech Beat lists upcoming events on our Events Page at no charge to the organizers. Many upcoming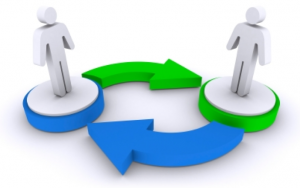 events are also listed in our weekly news digest. If we publish any feature articles before and/or after your event, publicity also generally includes a wide variety of social media posts about your event on our Facebook, Twitter, and Google+ pages.
All of this provides valuable publicity for your organization and your event. However, it takes our time and effort. Our only support is partnership. Unless you are a partner or we've worked out another arrangement, SCTB asks for your agreement of these terms of reciprocity in exchange for free publicity/visibility/listing for your event:
Placement of SCTB's logo (provided by SCTB) and link on your event website as one of your partners/sponsors (discuss tier in advance). Link logo to https://santacruztechbeat.com.

If your organization is a regular meetup whose only online presence is a meetup page, place logo and link on the meetup page in the sponsorship section.
If your organization also has a website beyond a meetup page, include logo and link on your website

Before the event, include SCTB whenever and where ever other partners and sponsors are listed, including website, e-newsletters, printed material at the event, slides shown at the event, and in verbal shoutouts, thank you's, and recognition at the event, etc.
For printed or projected material, include SCTB's name, logo, and URL.
At the live event, if you prefer a live shoutout, and/or if other sponsors are doing so, include something by or for SCTB at the mic for a 20-30 second blurb.
Two comp tickets to your event. (Sometime we don't need any, or need only one.)
Verbal shoutout at event (or something generally similar): "Santa Cruz Tech Beat is the go-to source for all things TECH in Santa Cruz and the entire Monterey Bay region. Comprehensive News, Events, Jobs, Resources, and more. Not just for geeks, readership includes business and city leaders, educators, service providers, VC's, and members of the extended business and tech community. Subscribe to the weekly email digest (free) at santacruztechbeat.com."
Contact SCTB if you have any questions or would like to work out other arrangements.
Thank you!
(*) Santa Cruz Tech Beat reserves the editorial right not to publish a submitted event or article.