Companies
Where Agriculture and Tech Intersect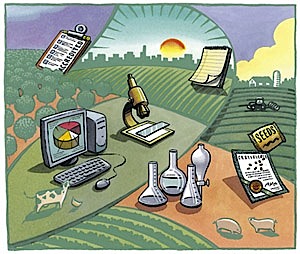 By Rosaeann Hernandez
Good Times
April 18, 2015 — Santa Cruz, CA
2nd Santa Cruz County Ag-Tech Meetup
Wed, April 29, 6pm
Digital NEST, 17 Aspen Way, Watsonville, CA
RSVP here
Read about the 1st SCC Ag-Tech Meetup
Where agriculture and Silicon Valley intersect, opportunity abounds
A robot that can harvest fruit, a kite that uses infrared imagery to predict crop yields, and a mobile application that makes it easy for growers to manage their operation from field to store are just some of the technologies under development today in the budding local AgTech space.
With the state's devastating drought now in its record-setting fourth year, farm labor shortages, increased food safety regulations, and growing consumer demand for greater transparency into the food supply chain, California's nearly $47 billion agriculture industry is looking to technology for answers.
While "technology is not going to make it rain," it can help address some of these vital industry concerns, says Dennis Donahue, former Salinas mayor and founder of the Steinbeck Innovation Cluster, an education and networking hub where innovators, industry leaders and Silicon Valley tech and venture capital experts come together.
Surrounded by a diverse agricultural economy made up of multinational agribusiness and a robust community of small- and medium-sized farms, local tech entrepreneurs in Santa Cruz's growing technology sector are well positioned to innovate an industry that has been traditionally hesitant to change, until now.
"As things are changing in the industry, we are getting pressures in different places of our operation and looking at ag technology, ways where we can use less people to farm maybe even the same ground," said Robert Wall, farming systems technician at Reiter Affiliated Companies, the largest fresh multi-berry producer in the world, at Santa Cruz County's first AgTech Meetup on March 24.
Reiter is currently working with the developers of Agrobot, a robot strawberry harvester that can determine a strawberry's ripeness before it is picked and packed.
This year, the company is introducing a Helikite, a helium-propelled kite-balloon, for use in crop forecasting for the first time.
Continue reading article here: http://www.gtweekly.com/index.php/santa-cruz-news/santa-cruz-local-news/6475-coming-to-a-field-near-you.html
For more about the Santa Cruz County Ag-Tech Meetup: http://www.meetup.com/Santa-Cruz-County-Ag-Tech-Meetup/
###