Featured
Booyah! Just-Thawed $15.9M for Santa Cruz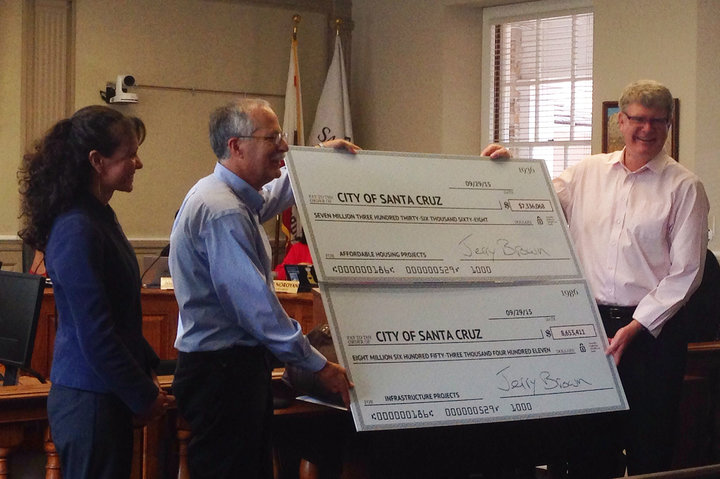 By Bonnie Lipscomb & J Guevara
City of Santa Cruz Economic Development Office
(Photo above: Economic Development Director Bonnie Lipscomb, Mayor Don Lane, and Assembly Member Mark Stone celebrate the release of the redevelopment bonds. Source: EDO website)
October 29, 2015 — Santa Cruz, CA
Since the California Legislature passed the 2011 Budget Act authorizing the dissolution of redevelopment agencies across the state and eliminating one of the primary drivers of economic stimulus at the local level, economic development has been at a crossroads due to a lack of funding. Supporting businesses and building key infrastructure to sustain and grow our economy has been challenging at a time when businesses needed assistance the most during the great recession.
But like many of the businesses we support, we were scrappy and tenacious, leveraging existing funding, securing grants to move critical projects forward and partnering with local banks and agencies to fund new lending programs at a time when funding was scarce. Meanwhile, over the last five years we have been steadily working with our colleagues and representatives in Sacramento to address the millions of dollars of local infrastructure bond funds frozen across the state by the 2011 Budget Act when so-called redevelopment agencies went the way of the dodo.
Well, the thaw is here. Governor Brown signed Senate Bill 107 this past September resulting in, among other things, $15.9 million back in the hands of the Santa Cruz community. Booyah!
Continue reading article here: http://choosesantacruz.com/journal/2015/just-thawed-16-million-for-santa-cruz
###