Companies
Fiber! Fiber! Fiber!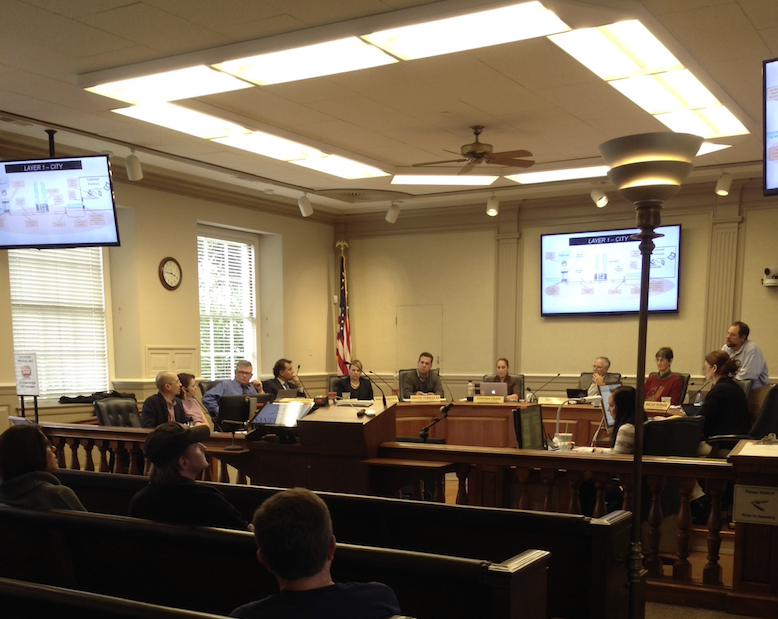 By J. Guevara
City of Santa Cruz Economic Development Office
December 9, 2015 — Santa Cruz, CA
(Photo above: J. Guevara and Bonnie Lipscomb, City of Santa Cruz Economic Development, present the fiber project to Santa Cruz City Council on December 8, 2015. Credit: Sara Isenberg)
Santa Cruz will have the first gigabit fiber-to-the-home network in Silicon Valley
The wait is over. On Tuesday, December 8, the Santa Cruz City Council unanimously approved the first Fiber-to-the-Home gigabit network in Silicon Valley. Called Santa Cruz Fiber, the network will provide accessible and affordable internet service for residents and businesses at speeds 10 to 100 times faster than current connections, with a three-year timeline to design and build the network to pass every parcel in the city by 2018.
In partnership with local internet service provider Cruzio Internet and the non-profit National Development Council, the City of Santa Cruz proposes to seek lease revenue bonds estimated at $45-50 million, to finance the dark fiber infrastructure and startup costs while Cruzio Internet provides the electronics, local customer support, and blazing-fast internet as the exclusive retailer on the municipally-owned network.
Continue reading article here: http://choosesantacruz.com/journal/2015/santa-cruz-fiber-gigabit-fiber-to-the-home
###
Tagged City of Santa Cruz Economic Development Department, Cruzio, Fiber