Companies
Where tech and agriculture intersect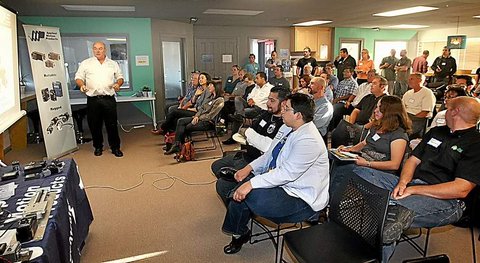 By Samantha Clark
Santa Cruz Sentinel
(Photo above: Don J. Macleod, president of Applied Motion Products in Watsonville, pitches his company at the first Ag-Tech MeetUp last Wednesday evening at Digital NEST in Watsonville. Credit: Dan Coyro)
March 30, 2015 — Watsonville, CA
Tech entrepreneurs, ag community members, and members of the City Council network and learn at first Ag-Tech Meetup
An hour away from Silicon Valley, agricultural Watsonville has the makings of a tech hub.
Next to its berry and lettuce fields, startups are building robots and mobile apps to aid farmers. Technology offers help to growers looking to become more sustainable and efficient while challenged with water supply, environmentalism and a shortage of labor.
Digital NEST, a nonprofit teaching technology to youth, hosted Santa Cruz County's first Ag-Tech MeetUp Wednesday, modeled after the popular New Tech MeetUps held monthly in Santa Cruz.
"I had this idea about what's possible if we get the biggest industry in the county with the brains, the energy and the creativity that's happening in Santa Cruz with tech. By bringing these two things together, let's see what could happen," said Jacob Martinez, founder of Digital NEST. "There's a lot of tech within agriculture happening locally that a lot of people don't know about, so it's also about highlighting that."
Two dozen of tech entrepreneurs, ag community members and members of the City Council networked and heard presentations on local burgeoning technology.
Applied Motion Products, headquartered in Watsonville,specializes in high-precision motion control products that are big in packing and labeling for the food and beverage industry. CEO Don Macleod said there's potential in agriculture.
"We're seeing a lot of these applications on the fringe of the farm field," he said.
Robotix, a Watsonville drone startup, is still developing a prototype, but its founders see robotics as a solution to inefficiencies.
"We're thinking big by thinking small," said co-founder Hernan Cortes, whose father worked in Castroville's artichoke fields for 30 years.
Drones can snap overhead photos of the field and gather data with sensors, helping farmers identify problem areas in the fields and ultimately save them money. Cortes said they also areexploring how drones can assist people with disabilities.
Reiter Berries runs at the forefront of embracing and experimenting with new agriculture technology.
"As there are changes in the industry, we're feeling pressure in different places," said Robert Wall, farming systems technician with Reiter Berries. "Basically what we're seeing here is that farmers have been doing the same thing for 30 years, set in their ways. Sometimes they look at these contraptions that we come up with, and they say, 'No way. Get that out of my field.'" Wall presented a progressive list of innovations Reiter Berries, which is affiliated with Driscoll's, is exploring, including helikites, robots that pick ripe berries using infrared, high hydroponic beds, new machinery to boost harvest production, on-target spraying and innovations with material handling.
Continue reading article here: http://santacruzsentinel.ca.newsmemory.com/publink.php?shareid=449f5630d
###
Tagged Ag Tech, Digital Nest