Events
Hacking Out the Solution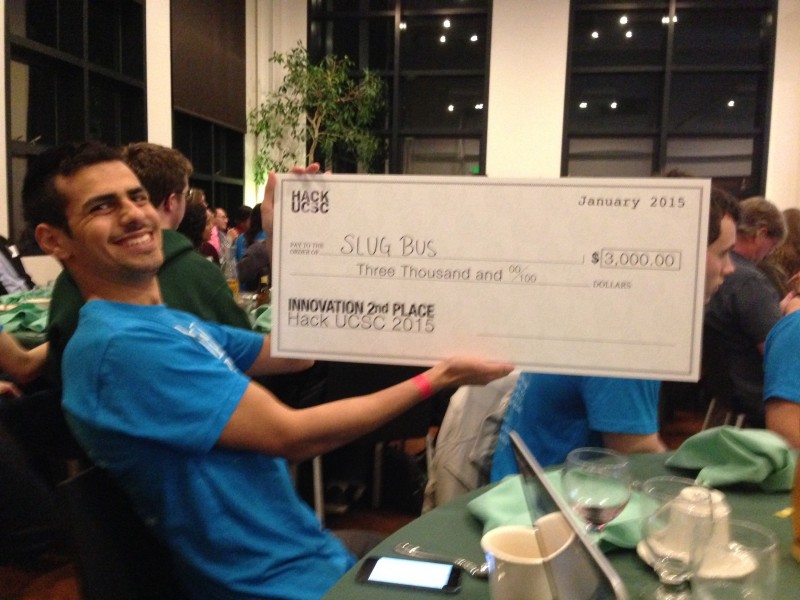 By Paige Welsh
Contributor, Santa Cruz Tech Beat
January 13, 2015 — Santa Cruz, CA
(Above photo: Nicholas Mata, of team SlugBus, shows off his $3000 check. Photo credit: Paige Welsh)
[Editor's note: This is second in a series of two features by Paige Welsh about this weekend's hackathon. Read The best summary of UCSC Hack 2015 winners: Who Won What for What.]
The story of Hack UCSC 2015
If the world is woefully ill with pollution, social injustice, and just plain day-to-day inefficiency, UCSC Hack 2015 will lead you to believe that at least part of the cure is cramming 350 students into an auditorium and letting them code for a weekend. The participants at UCSC's 2015 Hackathon believe not only that they can build solutions to the world's problems, but that they can do it in just 46 hours. Last year's competition successfully produced a coupon sharing site, and message board for local artists, but 2015 is asking students to think bigger. Two new award categories, Ag Tech and Tech Cares, specifically reward technology that remedies agricultural problems, and environmental and social justice problems. This year, the number of participants has nearly quadrupled, jumping from 92 students to at least 350. Most students are from Central Coast area schools such as UC Santa Cruz, Cabrillo College, CSUMB, SJSU, but some have come from as far as Boston University and MIT. The competition got bigger, categories got harder, and the answers got better.
Day One: An Improv Event
As I walk along the line for registration and ask participants about their plans, I realize that the hackathon is also an improv event. Only 4 of the 32 students I speak to have any plans for their coding. One participant, Greg Greenleaf from CSUMB, is looking for a project. A rolled up sleeping pad is tucked on top of his overnight bag. Time will not be wasted on a commute home.
"This isn't my first hackathon. You come to know what you need," says Greenleaf.
After all the contestants are registered, the room settles down as Mark Adams, one of the event organizers, takes the stage. He has a voice for radio, and as he goes through the rules, one sticks out: "Don't be a jerk." It's a rule that doesn't really need to be said, but it sets a tone for what kind of tech scene the hackathon wants to foster, creativity that compounds on itself when tech creators help each other.
"In the tech world, it's 90% implementation, and 10% idea," says Adams. In short, it's hard to make it alone.
Sponsors for the Hackathon include Santa Cruz locals like Cityblooms, and Plantronics. Both companies want students to build tech around their hardware. The sponsors do not own whatever intellectual property the students generate, even if their project is built around a sponsor's tech. It is an opportunity though to form a relationship with potential employers and people who can turn ideas into something we can all access in an app store.
The pitch session seeds the participants with ideas for projects. You don't need to be a coder to pitch. Often the people pitching are pitching local organizations that could use some technological help. Darren Gertler came from Watsonville Wetlands Watch to the hackathon to find help digitalizing the wetlands map.
"Right now this is what we have," he explains as he unfolds a paper map.
He hopes a digital map will show up-to-date trails, points of educational interest, and real-time gps locations for the confused visitor who finds themselves wading through the mud.
Another person looking for help was Micheal Riepe. Riepe's girlfriend lost her aunt to pneumonia partly because the elderly care facility did not immediately help her after a fall. Riepe asks hackathon participants to find a better way to manage care for the elderly.
Greenleaf, whom I met in line earlier, has settled into a project that joins Riepe's request for assistance with the Plantronics Voyager Legend, a Bluetooth earpiece that can detect motion and receive voice commands. Greenleaf is part of a larger CSUMB team. They're keeping their grandmas in mind as they tentatively plan their project. They hope to use the motion sensor to detect falls and the voice command to ask if the user is alright.
As the teams settle into a long night of coding, the room is humming with ideas.
Day Two: Navigating the Bumps
It's quieter in the room on day two. Instead of bouncing table to table, the participants now sit in one place, as if the chairs have implanted roots into their backs. The CSUMB team is running into some coding challenges. They're downsizing their plans. Greenleaf only slept for one hour on Friday night.
A much more tired version of Greenleaf echoes many participants when he explains, "Your ideas start off grand, but once you start realizing the constraints of time and technology, you have to granulize."
A team of all women from UC Santa Cruz came to the hackathon with the hope of creating an app that makes fashion suggestions based on the weather. They're afraid they've already run out of time, but they hope to continue on their own after the hackathon.
"This is our first hackathon. We just wanted to get the feel. We want to continue with this team," says Aditi Gupta.
Edmond Lee, a UCSC undergrad, has adopted Gertler's plan to make a virtual map of the Watsonville Wetlands. He initially hoped to make an app that would allow users to upload photos and drop pinpoints at interesting plants and animals. Now, he is just planning to work on a digital map with a few points of interest. The rest of his team will continue the original plan by creating the application for a website instead for mobile.
"It's intense, but it's a great experience," says Lee.
Day Three: The Code Freeze
In the last few hours of coding, the auditorium floor is booby-trapped with power chords and a little sticky with spilled energy drinks. Some participants have worn their hackathon t-shirts since registration, and they certainly smell like it. When the countdown on the projected clock hits zero, some teams triumphantly exchange high-fives, some look around their tables with visible disappointment, but all applaud with relief.
The CSUMB team is knocked out of the hackathon in the first round of judging, probably because they could not debug and polish the code in time. The team agrees it was a good learning experience and event expressed their own hackathon ambitions for CSUMB.
"We could bring this to our college and do our own hackathon," says Greenleaf.
Lee and his team, Trail Hackers, survive to see two rounds of judging. When he shows me the app, the trails are clear and include pop-up points of interest. The website is also successful. Lee seems a little surprised to be going on to the next round.
"I wasn't sure what to expect." says Lee. He hopes the Watsonville Wetland Watch uses his app even if he doesn't win.
Another survivor of the first round of judging triumphantly brandishes a glass box containing a basil plant.
"I call it basil on rails, because it's literally basil on some aluminum rails," say Zak Rubin, a member of team Make it Rain.
Make it Rain is using Citybloom's light and moisture sensors to report their basil plant's conditions to a website. It is the most pleasant smelling project in the auditorium. They hand me a smart phone with the webpage pulled up and invite me to press some buttons. A pink light suddenly illuminates, and water burbles over the plant. Every judge that presses the buttons grins.
"I think what's cool about this project is that we have a plant that's also a server," says team member Brandy Dettmer.
The project's greatest merits are actually not its charming presentation, but its relevance to California's drought. If an irrigation line bursts in the field, it may take days for someone to find and mend it. In the meantime, thousands of gallons go to waste. Sensors saturated by water could send a notification to the user, pinpointing the leak.
The second round of judging is a flurry of five minute presentations. At the end, Lee's team, Trail Hackers, is also eliminated, but Make it Rain proceeds to the final round. Although the CSUMB team was bumped in the first round, Plantronics awards each team member a BackBeat Fit wireless headphone.
The Awards Dinner
The awards dinner was a potpourri of participants, some in t-shirts and blue jeans, mingling among elegantly dressed sponsors, judges, and people from the local tech scene. All the participants at the awards dinner would receive some prize money. All that was left to be determined was the final ranking, and the People's Choice Award.
Coders in the hackathon were not the only ones who struggled with technological glitches in their presentations at this year. As Chancellor Blumenthal accidentally revealed the slide announcing that team SlugBus won second place, the team laughed and seemed happy to know that they would be taking home $3000.
The rest of the night went smoothly with memorable presentations. Avi Varshney, who made his robot move in sync with his body, took home $4000 for first place in the Innovation category. When asked what inspired his project he said, "I've been into robots since 10th grade… This is one of those shower ideas."
Eron Lake, a one man team who managed to go to work on Saturday between hackathon programming, clinched the People's Choice Award after a stellar presentation of his educational app, Cell Game. He wrote it to get younger students more interested in their biology homework.
Make it Rain won second place in the Ag Tech category, and received $1500. The participants congratulated each other with their oversized checks in hand.
"Tonight's the first time I've ever gotten a giant cardboard check. I'm floating on a cloud," said Make it Rain Team member, Sean Blum.
###
For a summary of winners and prizes, read The best summary of UCSC Hack 2015 winners: Who Won What for What.
Paige Welsh is a marine biology major and literature minor at UC Santa Cruz. She can be contacted at phwelsh@ucsc.edu.
Tagged UCSC Hackathon