Companies
A Silicon Valley for AgTech? Innovation Center for Startups Opens in Salinas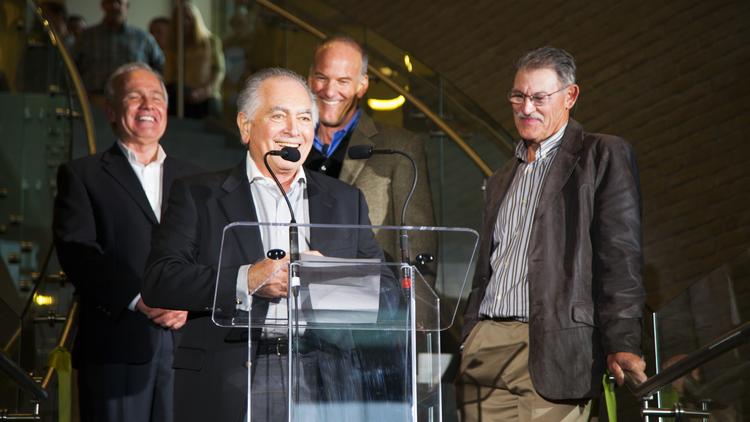 By Bryce Druzin
Silicon Valley Business Journal
(Photo above: Western Growers President and CEO Tom Nassif delivers opening remarks at the opening of the innovation center. Behind him are, from left to right, Vic Smith, CEO of JVSmith Cos.; Bruce Taylor, President and CEO of Taylor Farms; and Larry Cox, Owner of Lawrence Cox Farms. Source: SVBJ)
December 16, 2015 — Salinas, CA
Labor shortages, drought and energy costs are just some of the issues facing farmers in the Salinas Valley and the rest of California.
Solutions to those problems may arrive a little bit sooner after yesterday's opening of the Western Growers Center for Innovation and Technology in Salinas.
The Western Growers Association is a trade group representing fresh produce farmers in California, Arizona and Colorado.
Located on the first floor of the brand-new Taylor Farms headquarters in downtown Salinas, the innovation center is a co-working space with room for up to 30 agricultural technology startups, as well as established companies.
"The center will be an … opportunity for a number of companies who have great ideas for and don't have access to the grower base," said Taylor Farms CEO and President Bruce Taylor, who spearheaded efforts to open the center.
The center has six confirmed companies working on issues and products that range from food recycling to online software platforms for managing farm operations.
Continue reading article here: http://www.bizjournals.com/sanjose/news/2015/12/11/a-silicon-valley-for-agtech-new-innovation-center.html
###
Tagged agtech