Companies
Santa Cruz Muni Fiber Threat Forces Comcast Upgrade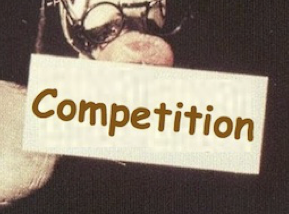 By Steve Blum
Tellus Venture Associates
Special to Santa Cruz Tech Beat
September 23, 2015 — Santa Cruz, CA
After years of blowing off customers, sandbagging local governments and stonewalling regulators, Comcast has finally upgraded its Santa Cruz County service area to what appears to be the same broadband speeds enjoyed to the north in Silicon Valley and to the south in Monterey County. All it took was a single word: competition.
Comcast hasn't said so, but it's no coincidence that the upgrade came barely six weeks after the Santa Cruz City Council voted to move ahead with building a city-wide fiber-to-the-home (and business) system in a public/private partnership with Cruzio, a local Internet service provider. It's the second time that Comcast has responded this way to a direct competitive threat in Santa Cruz. The first was two years ago when Surfnet Communications applied for a state grant to build a fiber system in the Santa Cruz mountains, where Comcast had refused to go until then. Other cities, such as Provo, Utah, have similar stories.
Before the upgrade, the best that Comcast could reliably deliver in the Santa Cruz area was less than 25 Mbps download and somewhere between 1.5 Mbps and 3 Mbps upload speeds. That was in stark contrast to the service it offered elsewhere in California, which was in the 100+ Mbps download and 25 Mbps upload range, at least according to the reports it submitted to the California Public Utilities Commission. The map below shows a blotch of green across the northern two-thirds of Santa Cruz County (the south is Charter territory), denoting a maximum reported download speed below 25 Mbps, while surrounding counties are colored blue, which means 100+ Mbps speeds.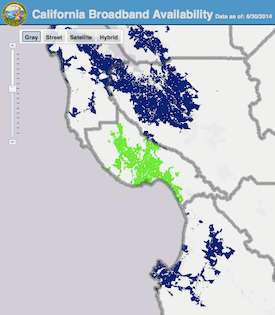 In this case, green means
go slow
.
Contrary to what it told the CPUC, Comcast routinely advertized and sold Santa Cruz subscribers its faster 150 Mbps service. According to a story in the Santa Cruz Sentinel, when pushed to the wall, Comcast gave refunds and discounts to customers, but apparently only to those who went to the trouble of complaining to the district attorney, the CPUC or other regulatory agencies.
Good Times, another Santa Cruz County newspaper, reported similar customer experiences prior to the recent upgrade…
For two years [Comcast] has been telling users they were getting 105 mbps, and charging $39 extra per month for the "Blast!" high-speed service, but an internal document released to Good Times shows the area was only capable of receiving 29 mbps—more of a fizzle than a "blast."

"We've been complaining to the company in Philadelphia for years, asking them to stop promising something they weren't delivering," says a Comcast technician whose identity is being withheld to protect his job. "But they ignored us."

The technician was so frustrated that he gave customers an internal document saying that speeds in the county were limited to 29 mbps, despite the company's sales promises of the 105 mbps Blast! service.
That all changed after the City of Santa Cruz and Cruzio turned up the heat with plans for a new FTTH network, at least within the city limits. The competitive fires had already been lit earlier this year by Santa Cruz County, which, after urging from Aptos supervisor Zach Friend, floated plans for a publicly-owned fiber backbone that would serve some of the more densely populated unincorporated areas, and by assemblyman Mark Stone, who introduced a bill in Sacramento that would raise the bar for minimum broadband service in California to 25 Mbps down and 3 Mbps up. By doing that, he would have made Comcast's service area in Santa Cruz County eligible for broadband infrastructure subsidies from the California Advanced Services Fund.
Now, people living in Santa Cruz – city and county – can get Comcast's Blast 150 Mbps plan for an introductory price of $40 per month, $10 less than it costs in Monterey County. The price goes up to somewhere between $75 and $79 after a year, and the fine print includes the standard weasel warning "actual speeds vary and are not guaranteed".
The City of Santa Cruz has high hopes for its fiber project, believing that it will make Santa Cruz a better place to live and work. But even before a single strand has been hung, the initiative – along with parallel efforts at the county and state level – has already succeeded in improving broadband service for locals residents and businesses.
Tellus Venture Associates is assisting the City of Santa Cruz with its FTTH project and helped Surfnet with its CASF grant application. I also provided support for Mark Stone as he sponsored assembly bill 238. I'm not a disinterested observer. Take it for what it's worth.
###
If you wish to republish this article, please follow our Terms of Use.
###
Tagged Fiber, Steve Blum