Featured
Announcing ChooseSantaCruz!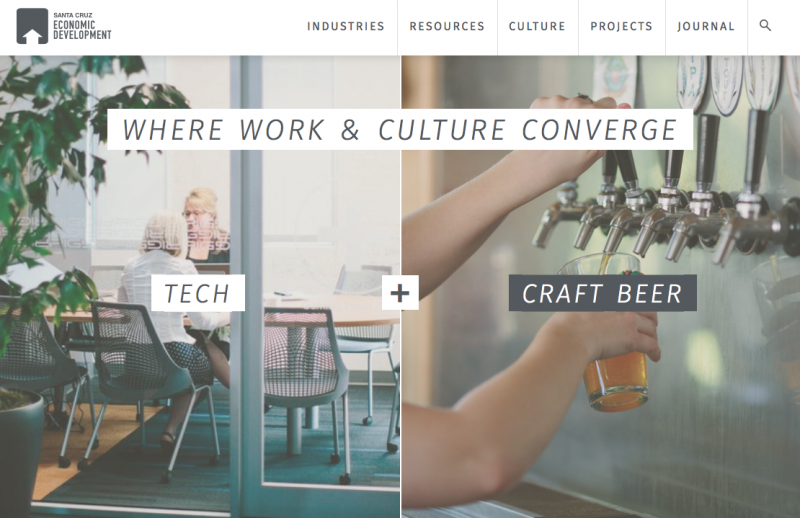 By Rebecca Unitt
City of Santa Cruz Economic Development Office
July 2, 2015 — Santa Cruz, CA
City EDO launches ChooseSantaCruz.com to showcase industries and culture
The City of Santa Cruz Economic Development Office has launched a new website, ChooseSantaCruz.com, developed by local firm, Design by Cosmic, to promote the local economy and provide resources to business owners. Showcasing the robust mix of industries that thrive in our community, the website also captures the influence of the unbeatable culture in the daily lives of Santa Cruzans.
Online Tools for Business Intelligence
As a resource for businesses, the website offers tools and services for both new and existing businesses, including OpenCounter, the online business planning and permitting resource. Two new online tools have also been added to the site, ZoomProspector, an interactive property database to assist businesses looking for a new location and SizeUp, a business intelligence tool to provide insight into the local economy, consumer spending, and other demographic and economic data.
Continuing the Conversation
The Economic Development Office will continue to produce specific content highlighting all things business in Santa Cruz through the journal section of the website including releasing in-depth videos and long-form articles highlighting key businesses in the community, with the first of the series focusing on Lloyd Tabb of Looker.

Tell Us What You Think
We invite you to explore the site and experience the inspiring businesses, diverse community, and incredible natural environment that reaffirms our decision to choose Santa Cruz each and every day. We appreciate hearing any feedback you may have about the website. This is an exciting step forward in promoting our community and providing a comprehensive tool for businesses to connect to resources. We are committed to ensuring the information stays fresh, relevant, and most importantly accessible. Contact Rebecca Unitt at runitt@cityofsantacruz.com.
###