Companies
Intuvo Acquired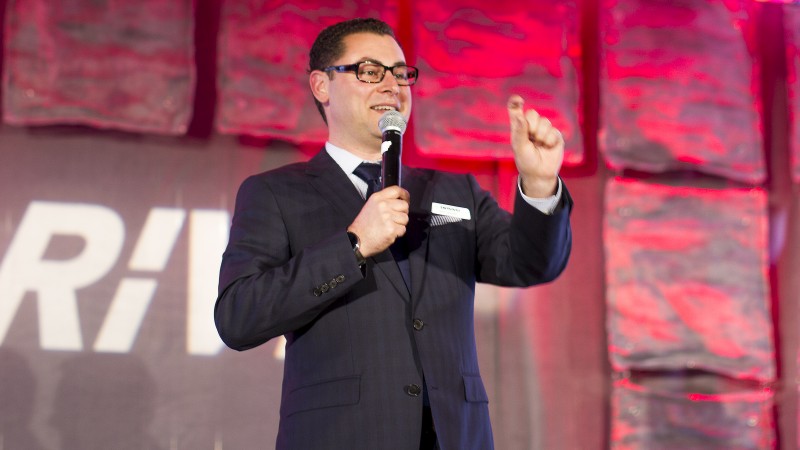 By Sara Isenberg
Founder, Publisher, Editor-in-Chief of Santa Cruz Tech Beat
(Photo above: Jeff Shood, Intuvo's president and co-founder, announces the acquisition of Intuvo by CU Direct at  CU Direct's Drive '15 Conference in Las Vegas. Photo contributed.)
May 21, 2015 — Scotts Valley, CA
Intuvo will join CU Direct
CU Direct, the nation's leading provider of lending, automotive and strategic solutions to the credit union industry, just announced that Intuvo, a leading marketing automation software company in Scotts Valley, will join CU Direct.
With the opening general session of CU Direct's Drive '15 Conference as the backdrop, CU Direct's president and CEO, Tony Boutelle, confirmed the that the company acquired Intuvo, and would be partnering on delivering next generation cross-sell/consumer marketing automation solutions to the credit union industry.
As a result of the agreement, Intuvo's technology platform will provide a number of superior market extensions for CU Direct, including dynamic marketing automation tools that will be integrated with the company's Lending 360 Loan Origination System's cross-sell engine.
Intuvo interfaces with many of the primary core banking software providers and origination systems. Industry leading organizations, including Boeing Employee Credit Union, GTE Financial, Chevron Federal Credit Union and American Airlines Credit Union, leverage Intuvo's solutions to increase loan volume and member satisfaction.
"Joining CU Direct is the next chapter in the amazing history of our company," states Intuvo's president and co-founder, Jeff Shood. "CU Direct's Team is filled with like-minded individuals focused on changing the way consumers interact with their lenders. With the backing of CU Direct, we'll be able to launch a suite of new solutions and make a huge impact in the lending space."
Intuvo plans to double headcount in Scotts Valley by year end
When asked how the acquisition might affect Intuvo's presence in Scotts Valley, Shood said:
"Everything is staying here, one of the reasons for the acquisition is the Silicon Valley presence and tech vibe of Santa Cruz. We'll be doubling our Scotts Valley headcount by year end, hiring in engineering, sales, and marketing."
Intuvo customers have improved their lending business by up to 30% by automating the analysis of real-time customer data and triggering personalized marketing via email, direct mail and sales force automation.
The acquisition of Intuvo advances CU Direct's position as an industry leading provider of innovative lending solutions and expands the company's line-up of Best-in-Class lending products.
"We're very excited about the new partnership between the two companies," notes CU Direct's Boutelle. "We look forward to working with the Intuvo team and to offering our clients cutting edge marketing automation products that will help them grow loans and improve member satisfaction."
###
Tagged Intuvo