Companies
UpVoice (Part 1 of 5 in How Senior Design Projects Create Leaders)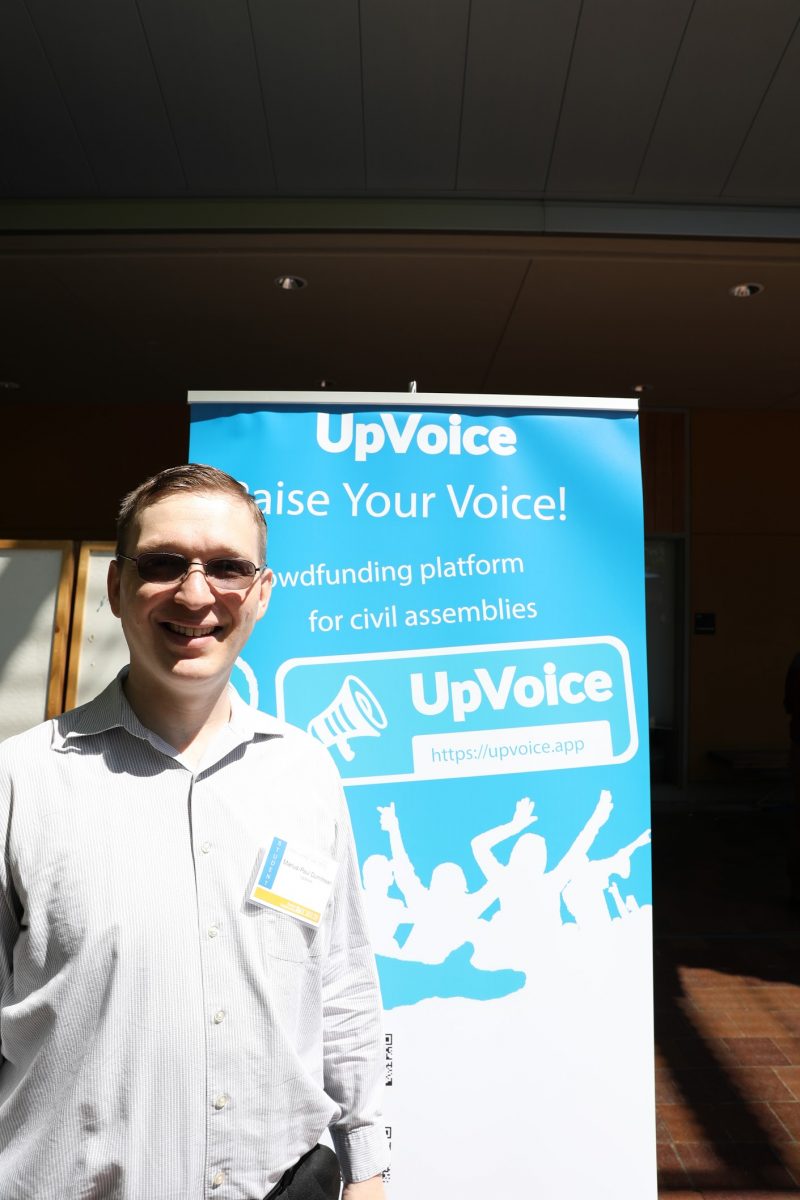 By James McGirk
Baskin School of Engineering, UC Santa Cruz
Special for Santa Cruz Tech Beat
August 20, 2019 — Santa Cruz, CA
[Editor's note: This is the first in a five-part series highlighting Senior Design Projects at UC Santa Cruz.]
(Photo above: UpVoice founder Marius-Paul Dumitrean. Contributed)
UpVoice: Tele-representation for the working class hero
"Some people think we're trying to profit off of controversy or incentivize it somehow," said Marius-Paul Dumitrean. "But that's not what we want to do; we want to give everyone–no matter what their beliefs are–tools to make their voices heard."
Social justice is embedded in the culture of UC Santa Cruz. But it's rare for a senior design capstone in the UC Santa Cruz Baskin School of Engineering to stir controversy. UpVoice is no ordinary project. The student team created a mobile platform that allows users to fund one another's participation in assemblies (and a host of other protest facilitating features like central hubs for uploading images and video clips).
"It's a funding vehicle and a way for people to organize," Dumitrean said. "Say there's a certain issue people are passionate about — like gun control in Colorado — and maybe you can't take time off of work or school, but there are a bunch of students who really want to go in order to have their voices heard on the issue; this allows you to compensate people for protesting on your behalf."
Some UC Santa Cruz people were dismayed with the idea. They worried UpVoice might encourage and profit off of political protest. Others disliked the idea that the platform was politically neutral and could be used by political groups they found distasteful.
"We're letting people get their message out even if they can't be there in person," team member Sean Fronteras said. "We don't want to decide who can use the platform as long as it's legal. We don't want people doing hate rallies or encouraging violence."
The genesis of the project came when Dumitrean's on-campus daycare program was being threatened with privatization. He wanted to join a protest but couldn't take the time off of work. After all that was why he needed daycare in the first place. Other companies existed that allowed corporations and politicians to hire actors to stand-in at protests, so why couldn't regular joes like him have access to those kind of tools?
Dumitrean wasn't a typical undergraduate. He was born in Romania, where he watched the fall of communism and the overthrow of the Ceasuscus and worked in the semiconductor industry for almost two decades before returning to school to finish his B.S. in Computer Science. "Romania is a funny place," Dumitrean said. "In some ways it's freer than the U.S. because they are more willing to exercise their rights."
He had created successful small tech businesses in the past, and drew up a proposal for a senior project that was more like a startup than a typical capstone.
Computer Science and Engineering Lecturer Richard Jullig knew how determined Dumitrean could be and was hesitant to allow a senior project that would require so much time and effort from students. But Dumitrean persisted. "I brought up my experience with daycare, brought up the right to protest vs getting away from work–how those of us who are responsible for children or managing a project ought to have a say."
Eventually Jullig relented. So the team assembled and then divided the tasks according to their strengths.
"We identified our key strengths and broke up the labor in such a way so that each one on the group was contributing to their highest strength," Dumitrean said. "We do move around but for the most part we focus our energy where we're strongest. That allows us to move quickly and build something on a bigger scale."
The scale of the project is huge. "We're near 3,000-4,000 hours on this project, 40,000 lines of code so far," Dumitrean said. "We even got together on Thanksgiving, the morning before was our regularly scheduled sprint, and we just said hey we got to do this a little earlier because it's Thanksgiving but everyone showed up, everyone pitched in, we always have, it's the only way to accomplish what we accomplished."
They've accomplished a tremendous amount. "We've finished the Android and IOS apps, we're just trying to wrap up the web portion with the gallery [which would allow users to share images from protests to a single central location] and the social media sharing aspects of the project."
They hit a few snags connecting social media platforms to the mobile platform. "They stopped supporting us so we changed functionality from sharing on the app to sharing on the web. It was the only way to keep going forward." Other challenges included the typical ones for a senior project, such as racing to learn new technologies like Swift, Sketch, web backend development, Sql and then getting everything to work together.
The team has a working product. They've user tested on a small scale but the next step will be distributing the product during a real protest. They're talking to union reps about user testing during the next strike. Professor Jullig had a testing suggestion too. He told the UpVoice team that if they had a problem [with Dumitrean's managing style] they could launch a protest using their own app.
---
Read the entire five-part series:
###