Companies
Is coding the best way for kids to unlock their potential?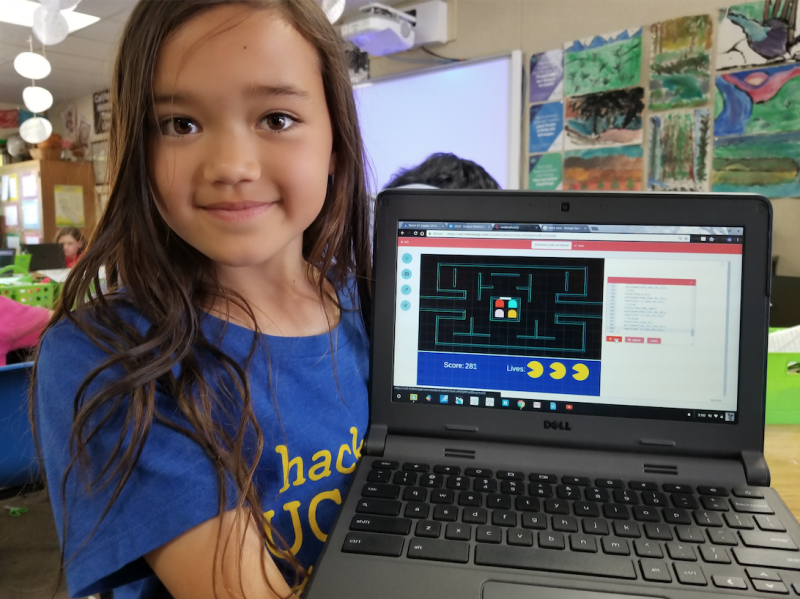 By Sukh Singh
Code Naturally, Founder and CEO
Special to Santa Cruz Tech Beat
June 1, 2017 — Santa Cruz, CA
(Image above: A Code Naturally student shows off her coding project. Contributed.)
[Editor's note: Santa Cruz Tech Beat previously published Code Naturally: Preparing the Next Generation to Code (1/29/16) and Code Naturally Rolls Out Coding Camps for Kids (7/7/16).]
Coding—the language of computers—is a driver of the digital economy.
With its foundation in applied math, it turns out that curriculum as early as grade school plays a role in whether or not students gravitate to related fields in Science, Technology, Engineering and Math (STEM).
Coding skills are critical to getting a job in an increasingly digital economy. Even fields and careers that today have limited need for computer programming will increasingly value coding skills. In the next three years, 1.4 million new jobs are projected to exist in STEM related fields, only 29 percent of US students leave high school prepared to pursue degrees in STEM fields.
As code literacy becomes a more common requirement across a wide range of fields, more and more elementary and high schools are being pushed to add computer science to their general curriculum. Kids that haven't been exposed to programming begin to feel the disadvantage when they leave high school. Unfortunately, many schools have difficulty finding qualified educators and determining which approaches are effective.
So what does this mean for the kids in Santa Cruz County? Even though Santa Cruz is tied to the economy of Silicon Valley, and just a short drive away, surprisingly few Computer Science educational opportunities exist in elementary and high schools around the Monterey Bay. Due to this fact, busy parents have to go as far as driving their kids over the hill to give them same opportunities provided to Silicon Valley students.
Code Naturally: personalized, innovative, and in your backyard
Code Naturally has been fulfilling the computer science educational needs in Santa Cruz County since 2015. Two years ago, we began piloting new curriculum, approaches and software to get students excited about programming.
Our ambition to find an effective way to teach coding was piqued while I was a student at UCSC in Computer Science and experienced methods that were not helpful. We won a business design competition, and incorporated with the prize money. We then set out to establish a deep understanding of how to successfully teach kids to code.
Our small team began by offering free computer science classes in local schools. After testing our approach, we kicked off an afterschool program at Brook Knoll School. We found the most success when we tried out a project-based curriculum with a focus on giving students ownership over the projects they pursued.
We found that students didn't need games and prizes to motivate them. Instead, we provided students with a sense of control through encouraging them to outline their own goals, and use our time together to pursue and achieve these goals.
We teach coding. We learn from kids.
This year, our team piloted a new 8 week in-school program at Brook Knoll & Vine Hill in Scotts Valley, Branciforte & Mission Hill in Santa Cruz, and Bradley Elementary in Pajaro. Students proved enthusiastic for every new lesson and surprised the team with what they could create with even the most basic programming concepts.
To complement our curriculum, our software became a canvas with tools and resources added on to encourage students to pursue their own ideas and create illustrations, animations, and games using JavaScript. The results of the in-school program were promising. By the end, every student was creating simple interactive games and animations in Javascript.
Because our students choose what they want to build, they must solve problems creatively by deciding how to use what they've learned to accomplish their goal. As students get more tools to work with and their projects become more complicated, they also learn to plan their solutions before writing any code.
Watch what this 5th grader has learned at Code Naturally:
Our curriculum includes lessons that teach students to break down complex problems into smaller ones that can be solved one by one. Students learn to use Kanban boards to plan the steps to completing their project and then set their own pace by deciding how long each step will take them. This system is particularly important when students collaborate on projects so that work is fairly and effectively distributed.
Summer Fun
While lining up schools to participate in next school year's series of in-school classes, Code Naturally is also offering affordable code camps for local 3-9th graders. Our Summer program brings our tested strategy for teaching coding to students in a safe and inclusive environment. The small class size allows for each student to go at their own pace and allow for lots of one on one instruction. Kids have fun as they learn to bring their intention and ideas to life with lines of code. For more information visit our website, www.codenaturally.com.
What's Next
As we continue writing the next line of code, what's clear is that Code Naturally will continue to expand to other schools, improve our software and continue to learn from our students.
###
If you wish to republish this article, please follow our Terms of Use.
###
Tagged Code Naturally