Companies
Want your daughter to code? Looker & Code Naturally are making it happen!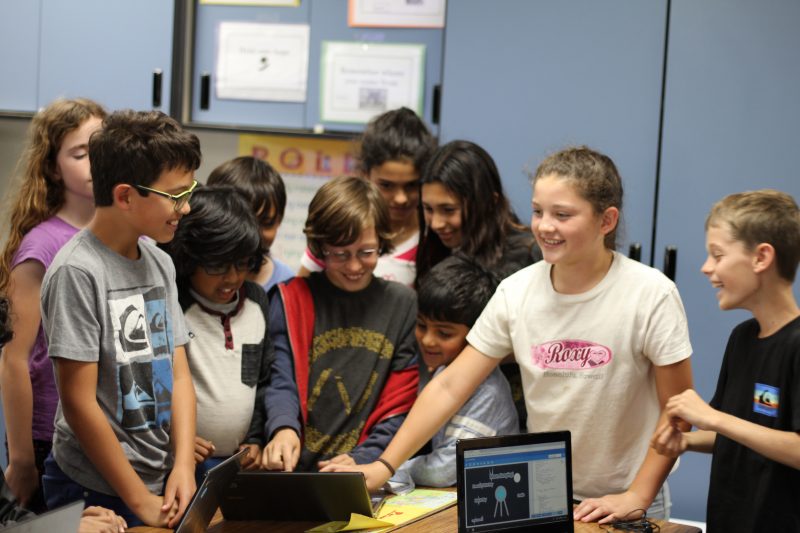 By Mackenzie Baughman
Executive Director for the Code Naturally Academy
Special to Santa Cruz Tech Beat
March 21, 2019 — Santa Cruz, CA
(Photo above: Students at Brook Knoll Elementary School in Scotts Valley get excited about a classmate's project. Contributed)
Looker Data Analytics is supporting scholarships for girls to learn to code this Spring Break! Parents can click here to apply and here to learn more about Code Naturally Academy's Spring Code Camp. Looker has an excellent record of supporting women in STEM as well as STEM initiatives that benefit students here in the Santa Cruz Community. Looker believes that it's important to introduce STEM education to students at a young age to foster interest in the subjects early on and provide a pathway to these careers before high school.
As a Code Naturally Educator, it's so exciting to get the opportunity to work with a large, impactful start-up that's located right in the heart of Santa Cruz. Last month, we partnered with Looker to provide the first Code Night hosted at Looker HQ in Downtown Santa Cruz. Code Night is an opportunity for students to code with friends, enjoy pizza, and get a feel for what it's like to be at a start-up. Our students were a little more than excited. They were impressed with everything from the kitchen area to the bathrooms. Our favorite quote of the night was, "WOW, That's the most amazing bathroom I've ever been to."
Beyond the opportunity to learn to code in JavaScript, students got a taste of start-up culture. They got to experience the space where real engineers and designers get to work to create tools used by people all over the world. Beyond what happens during work, they also got to see that there's plenty of fun to be had afterwards. From enjoying a game of pool to playing Super Smash Bros with friends, attendees got to see that engineers don't just sit at their computers and code all day.
We're looking forward to continuing to partner with Looker to make Computer Science and STEAM more accessible to the Santa Cruz Community. If you'd like to learn more about Code Naturally Academy, click here. Enrollment for Spring Code Camp is open. Click here to enroll or click here to apply for a scholarship for your daughter.
We'll be announcing details for our summer camp in April so stay tuned!
###
Tagged Code Naturally, Looker