Companies
Code Naturally Rolls Out Coding Camps for Kids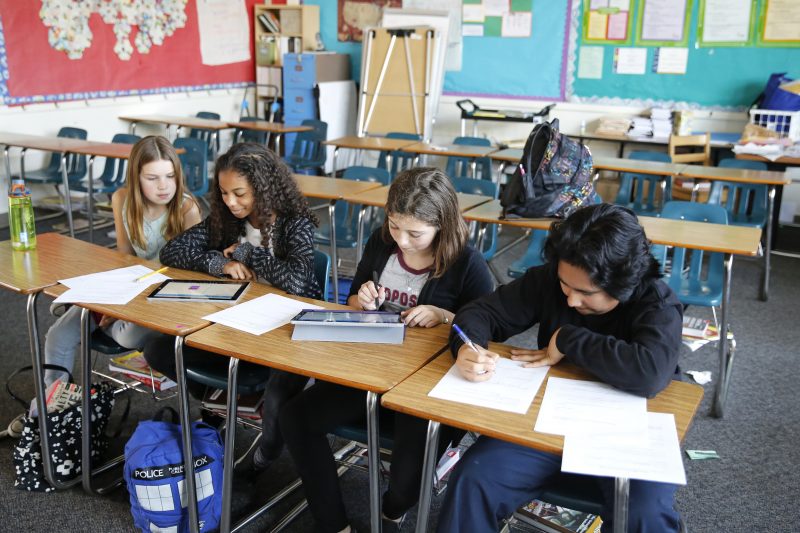 By Sukh Singh
Code Naturally, Founder and CEO
July 7, 2016 — Santa Cruz, CA
(Photo above: 6th-7th graders programming in Code Naturally's class at Branciforte Middle School in February 2016. Contributed)
Teaching students to program across Santa Cruz County
Last January, Santa Cruz Tech Beat published Code Naturally: Preparing the Next Generation to Code, an article that  helped introduce us to the local community. What have we been up to since then?
We've been teaching students across Santa Cruz County to program using our app. Our team has had the pleasure of working with students at Branciforte Middle School, Bradley Elementary, The Youth Now Center, Brook Knoll Elementary, and Iris Science Academy over the past 6 months. Students and teachers provided excellent feedback which our team incorporated into our development process. We've tested over 6 iterations of our application since we started beta-testing in January.
Kelly Utic, the tech coordinator at Brook Knoll contacted our team after reading our Santa Cruz Tech Beat article in January. She introduced us to Kathy Peterson, a 4th grade teacher at Brook Knoll always on the lookout for technology to engage her students in Science, Technology, Engineering, and Mathematics (STEM).
Kathy invited us to come teach in her class twice a week for six weeks. Kathy's 4th graders were excited by how easily they could create images and animations with code but demanded the app have more features and support. Our software team continues to incorporate their suggestions with each iteration of development.
A majority of the 4th graders can use conditionals and math expressions and consistently demanded to be taught more than we thought was feasible to teach in one lesson. Some students were eventually able to develop simple games. Before parting ways for summer, we gave our students a modified quiz from the UC Santa Cruz Processing Computer Science 5J class.
We're happy to report that our 4th graders averaged a 75% on the quiz – only 1 point below the UCSC average!
What we've learned
Growth Mindset: Placing a greater focus on student's improvement than the demands of the teacher encourages experimentation and failure – both of which are essential to developing programming ability. We encourage students to make as many mistakes as possible as this is the quickest way to understand how a programming language works. Kids make adjustments to their code and try again until they get the desired result.
Collaborative Learning: Every lesson, we'd have 4-5 students that fully understood the subject matter. These students volunteered to walk around and help their peers develop projects. This often provided clarity and confidence to confused students; when they saw students just like them programming an animation, they knew that they could do it too.
Teachers need support: Many teachers want to bring programming into the classroom but aren't equipped. Code Naturally is teaching teachers how to program and providing software that makes it convenient to blend programming with existing math lessons. We're hosting teacher code camps to perfect this app for educators.
Constant Improvement: "The only way to win is to learn faster than anyone else" – Eric Reis, The Lean Start-up. Our ability to learn and improve our product for our customers over time is essential to providing them long term value.
Students and parents wanted more programming lessons
What are we doing these days? We're bootstrapping! We're making use of available revenue streams to support
ourselves as we apply for grants and work towards launching our Software as a Service early next year.
Luckily, students and parents wanted more programming lessons after we finished our classes in schools across Santa Cruz County. We abided.
We're hosting a four-day code camp for 4th-6th grade students from July 11-14, and another for 7th-9th graders July 18-21. The code camp will take place from 12:00 PM – 3:00 PM. Technology is provided for students.
Students will learn how real programmers break down large projects and plan collaboration to efficiently divide and conquer complex problems. Students will use JavaScript within our app to create pictures, animations, and games to add to their digital portfolio. After the code camp, students can continue to use the application for free at home to build new projects or further develop old ones.
We guarantee an 8:1 ratio for our students and charge $200.00 to attend all 4 sessions.
Get more information at http://codenaturallycodecamp.webflow.io/ or shoot us an e-mail at contactus@codenaturally.com
###
If you wish to republish this article, please follow our Terms of Use.
###
Tagged Code Naturally