Events
Watch: Jeremy Neuner says, the office is obsolete | TedX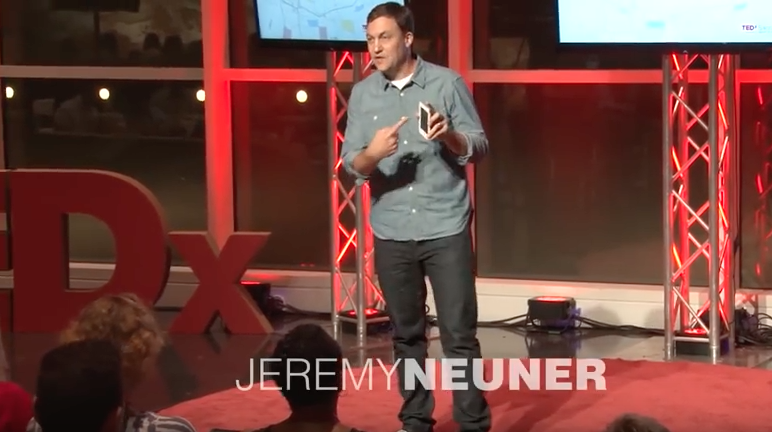 By Sara Isenberg
Founder, Publisher, Editor-in-Chief, Santa Cruz Tech Beat
December 3, 2016 — Santa Cruz, CA
The ideas for this TEDx talk were born from spending the past eight years watching and being inspired by the thousands of people who have worked at NextSpace and have been part of our community. — Jeremy Neuner
Last summer (7/29/16), Jeremy Neuner gave a talk at TEDx Sacramento about workspaces. Neuner, one of the original co-founders of NextSpace still has the cred. About a year ago, after  years of working locally, he started commuting over the hill to work as Business Partner Manager on Google's Workplace Services team.
Neuner reflects:
Just over eight years ago, a few of us got together and came up with a slightly crazy idea: that Santa Cruz needed a new kind of workplace where freelancers, entrepreneurs, telecommuters, and independent consultants could come together to work in a collaborative community. In the teeth of the worst recession in a half-century, we launched NextSpace as the expression of that idea. Almost immediately, we knew we had created something special, not because our idea was so brilliant, but because of the individual and collective brilliance of the people who worked at NextSpace.

The ideas for this TEDx talk were born from spending the past eight years watching and being inspired by the thousands of people who have worked at NextSpace and have been part of our community. They all have one thing in common: having the courage to step outside of the "old" way of working and finding a way to make a living and make a life on their own terms. So I want to say thanks to all NextSpace members, past and present, for being so inspirational. This TEDx talk is for you.
From the TedX blurb:
Jeremy discusses as we moved from an industrial to an informational economy what we do for work has gone through a revolution, but where and how we work has hardly changed at all. Jeremy proposes that if we want a better society we have to develop a better way to work. That better way is already starting to happen. What is it?

Jeremy Neuner builds strong communities by creating great teams and imagining collaborative environments where they can thrive. A former U.S. Navy Pilot, he has worked in local economic development, founded NextSpace, and is the co-author of The Rise of the Naked Economy: How to Benefit From the Changing Workplace. Neuner is a frequent speaker on the future of work and the workplace. He has spoken at The Aspen Institute, at UCLA's Anderson School of Business, The University of Wisconsin's Institute for Discovery, the San Francisco Bay Area Planning and Urban Research Association, the Global Workspace Association, and the Global Coworking Unconference Conference.
###
If you wish to republish this article, please follow our Terms of Use.
###
Tagged Jeremy Neuner