Featured
Q&A: Jeremy Neuner — What Next?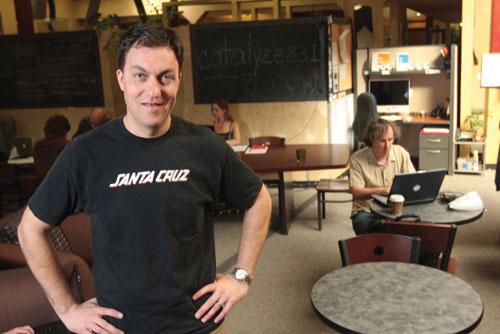 By Sara Isenberg
Editor-in-Chief, Santa Cruz Tech Beat
March 5, 2015 — Santa Cruz, CA
After publishing a recent article about Jeremy Neuner's new role at Santa Cruz Works (March 3, 2015), I had the opportunity to chat with Neuner and ask a few questions about his ongoing role at NextSpace and his NextRole at Santa Cruz Works. (For the record, folks, his last name is not pronounced "Nooner," Stop already! I confirmed this with Jeremy's mom when she was visiting NextSpace this morning.)
SCTB: What are you going to be doing at SCW? 
JN: My title is Executive Director. It's a part-time position that may/may not develop into a full-time position, depending on the evolution of the organization. Bob Cagle, a longtime leader in the local tech community, remains the president of the SCW board of directors. I'm honored and excited to be working with Bob. Frank Humphries was the interim executive director in the very early days of the organization and has handed those responsibilities over to me. Mark Adams remains as the program manager and is my day-to-day partner in running the organization.
SCTB: What are your top 3-4 goals in this new position? 
JN: SCW is a startup. And, like any early startup, we're still in the process of refining our purpose, our product, and our mission. So my first goal is to very clearly and crisply tell the story of Santa Cruz Works, why we started, and what we hope to accomplish as an organization. To that end, I want the local tech community, and the Santa Cruz community at large, to see Santa Cruz Works as a viable and essential part of our local economy.
SCTB: You put six years into NS, as founder, previous CEO, and most recently Chairman of the Board. What will your relationship with and responsibilities to NS be in the future?
JN: I'm incredibly proud of what my team and I have built at NextSpace over the past six years. So I will remain an active member of the NextSpace community, both here in Santa Cruz and across all nine of our locations. As the chairman of the NextSpace board, I will still have an active role in guiding and directing the company and working with the senior management team. We still have a big vision for NextSpace, we still believe in our potential to grow, and I'm excited to be part of that growth.
SCTB: SCW has been promoting the notion that tech workers should stop commuting and, instead, work in tech locally. While there are local startups hiring, there really aren't enough jobs to make a serious dent in the commuting situation. Thoughts on that?
JN: Depending on whose numbers you believe, somewhere between 20,000 and 40,000 workers commute over the hill every day. Do we have 20,000-40,000 local jobs for them to step into? No. But we have to start somewhere. We have to start keeping our talent and our tax dollars in our community. Every job we create in Santa Cruz, every commuter we take off the road, and every worker who has more time to spend with his/her family make for a stronger economy and a stronger community.
SCTB: What are the top three things Santa Cruz needs to do in order to become a more viable startup tech community that garners the respect of the valley and beyond?
JN: Success leads to more success. The more success existing companies have, the more companies that get started, the more companies that get funding, and the more jobs that get created will all have a continued positive effect on Santa Cruz's reputation as a legitimate tech ecosystem. But here's the thing: Santa Cruz already has a long and rich history of creating innovative, successful companies. And the new companies in town are part of that ongoing tradition of success. The most important thing we can do as a tech community is to constantly and relentlessly tell a positive story of who we are and what we can accomplish. We need to tell that story to each other. And then we need to tell it to the rest of the world.
###
Tagged Jeremy Neuner, NextSpace