Companies
Come celebrate NextSpace's 10 Years of Coworking, Community, and Shenanigans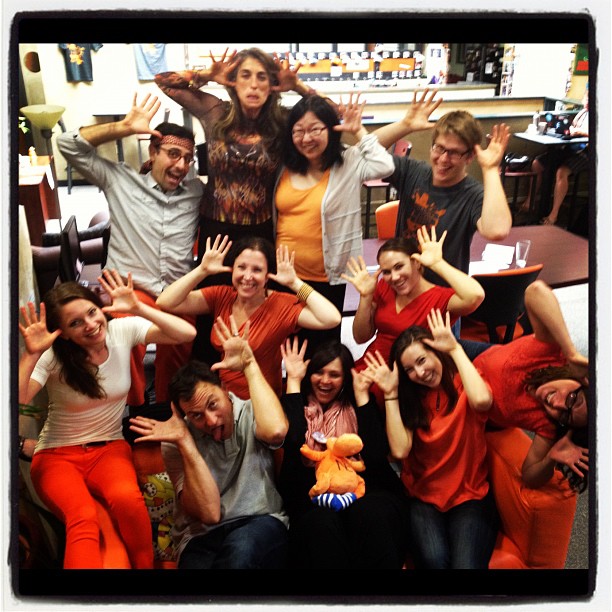 By Sara Isenberg
Founder, Publisher, Editor-in-Chief, Santa Cruz Tech Beat
September 18, 2018 — Santa Cruz, CA
(Photo above: Nextspace staff plays around at a training held in the early years. Contributed.)
Community celebration with panel of "firsts"
In honor of NextSpace's 10 year anniversary, the company is hosting a panel of NextSpace "firsts" to give a behind-the-scenes look at all things NextSpace. Panelists are Jeremy Neuner, Iris Kavanagh, and Chris Miller. The panel will be moderated by Cat Johnson.
Celebrate 10 Years of Coworking, Community and Shenanigans
Tue Oct 2, 2018
6-7pm networking, 7-8:30pm panel discussion
NextSpace, 101 Cooper St, Santa Cruz
RSVP here
Jeremy Neuner, NextSpace Co-founder, will discuss what it took to build one of the first coworking locations in the nation. He will share how he led NextSpace when the concept of coworking was brand new, and how it helped rebuild the economy in Santa Cruz.
"I'm incredibly amazed that the NextSpace community has been around for an entire decade. We've done so much to energize the local economy and we've had a lot of fun along the way. I'm excited to reminisce, tell a couple funny stories, and celebrate all the creativity and innovation of this unique community," says Neuner.
Iris Kavanagh, NextSpace's employee #1 and Chief Community Curator, will share the secret sauce to creating a fiercely loyal coworking community. Kavanagh continues to develop dynamic communities across the globe.
Chris Miller, Launch Brigade Founder and  the first member of NextSpace in 2008, will share his behind-the-scenes perspective on what it's really like to be be a member of the space.
Cat Johnson will moderate this memorable event. Johnson is a content strategist and writes extensively about the coworking movement.
"The panelists were the originators of this thing we now call coworking. These people continue to pave the way for what coworking will be in the future," says current NextSpace Community Manager, Maya Delano. "We are hosting this event to honor NextSpace's influence on the community in the past and present, and hear more about where we're headed in the future of the coworking movement."
NextSpace is also hosting a 10 year reunion/alumni party on Thu Oct 4, 6-8pm. All members and alumni are welcome. Please contact maya@pacificworkplaces.com to RSVP.
###
If you wish to republish this article, please follow our Terms of Use.
###
Tagged Chris Miller, Iris Kavanagh, Jeremy Neuner, Maya Delano, NextSpace