Companies
Digital NEST expanding to Gilroy (and beyond)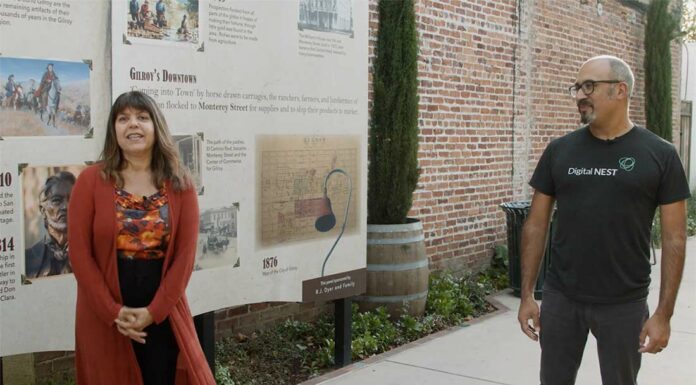 By Tony Nuñez
Gilroy Dispatch
December 2, 2020 — Gilroy, CA
(Photo above: Gilroy Mayor-elect Marie Blankley and Digital NEST Founder and Executive Director Jacob Martinez. Source: Digital NEST video)
The Digital NEST during its first six years has seen impressive and steady growth in the number of young people that it serves and in the impact on the communities in which it is embedded.
Now, the nonprofit youth workforce development center headquartered in Watsonville is expanding again. This time inching closer to the hustle and bustle of Silicon Valley—the ultimate landing spot for some of the young adults the organization is molding.
The NEST during its virtual sixth year anniversary announced that it is moving to a larger, historic location in Salinas: the former downtown firehouse. It is also opening a new NEST in Gilroy in the coming year.
Founder and Executive Director Jacob Martinez said his organization also has plans to expand into either the East Bay or to just north of the Bay Area into communities similar to Watsonville, Gilroy and Salinas—areas with large Latinx populations. That move, Martinez said, is expected to happen in the next five years.
"I think going forward with our growth we're going to go north," Martinez said, "so we can surround Silicon Valley and start putting pressure on them to start looking at our talent and taking us seriously."
Martinez said a location has not yet been selected for the Gilroy expansion. That, he said, will be determined by the community.
Continue reading here: https://gilroydispatch.com/digital-nest-expanding-to-gilroy/
###
Tagged Digital Nest, Jacob Martinez