Companies
AT&T Pebble Beach Pro-Am Puts the Spotlight on Digital NEST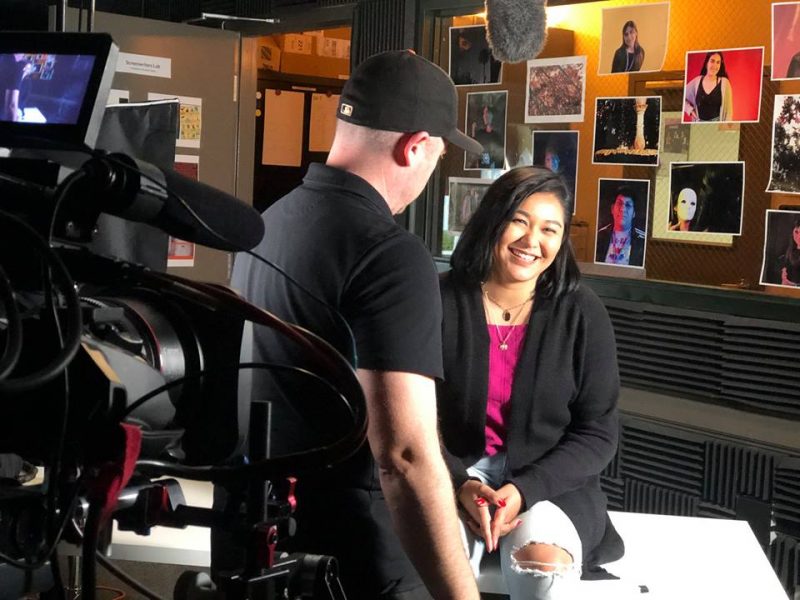 By Jacob Martinez
Executive Director Digital NEST
Special to Santa Cruz Tech Beat
February 5, 2019 — Watsonville, CA
(Photo above: Digital NEST member Daphne shares with AT&T how the NEST opened up her world to new experiences with technology. Contributed)
I'm not a big golfer, so I didn't initially grasp the magnitude of the opportunity my nonprofit was presented when we got the call that we were selected amongst a handful of nonprofits to be the featured charity in this year's AT&T Pebble Beach Pro-Am. Thanks to the Monterey Peninsula Foundation and AT&T, Digital NEST will have the rare opportunity to be featured on a vast, national platform and help shift the narrative around the potential of youths in farming communities like Watsonville and Salinas.
Our communities have been historically locked out of the economic opportunity and digital innovation brought by tech to other California communities. We know our young people deserve the very best to nurture their talents, wisdom, and passions, so we built our own thriving centers for technology and empowerment in Watsonville and Salinas that prepare our young people to prosper in the workforce.
The opportunity to be featured at the Pro-AM didn't come our way by accident.
Over the years the Monterey Peninsula Foundation, the tournament's organizers, has donated more than $148 million to local nonprofits. The foundation has an outstanding reputation in this region around building relationships with and supporting local non-profits in real, meaningful ways. When we opened our doors in 2014, the Foundation stepped forward as one of the early believers in the potential impact Digital NEST could have on youth in our region.
AT&T and the foundation's decision to choose the NEST to be part of the Pro-Am has real weight that extends far beyond funding opportunities. Millions of people all over the world will be watching this spectacular mix of golf pros and celebrities on a gorgeous backdrop of Pebble Beach. Maybe most viewers have never heard of Watsonville or Salinas or perhaps know very little about our communities. Digital NEST's brief national spotlight this weekend gives us the chance to introduce the world to the young, creative, hard-working students who inspire us every day.
It's a story that goes beyond connecting youth to the internet and workforce training but to a broad network of local businesses, elected leaders, community organizations and neighbors who experience the ripple effects of opportunity and optimism seeded at the NEST. That's definitely a story worth sharing with Pro-Am fans around the world.
###
Tagged Digital Nest, Jacob Martinez