Companies
Q&A: Parallel Flight Technologies' heavy lifting drones provide emergency relief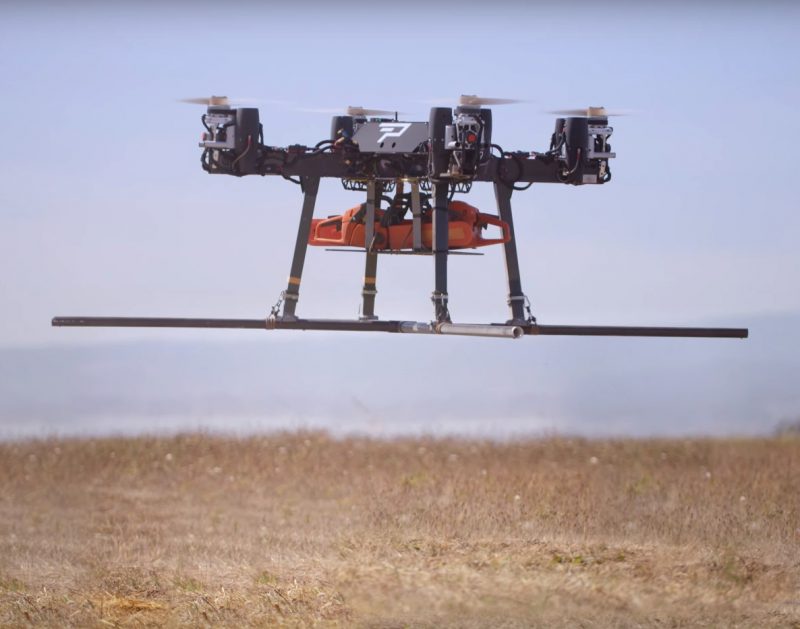 By Sara Isenberg
Founder, Publisher, Editor-in-chief, Santa Cruz Tech Beat
March 18, 2020 — La Selva, CA
(Photo: Parallel Flight Technologies heavy lift drone lifts two chainsaws. This is a typical payload for wildland firefighters working in the field. Source: Contributed.)
Can Parallel Flight Technologies' technology be applied to help the corona virus pandemic?
Parallel Flight Technologies (PFT) just received a grant from the National Science Foundation to further develop their long duration, heavy lift drone technology for fighting wildfires and supporting other emergency services. Since we're currently in an emergency with the Covid-19 pandemic, I was fortunately to be able to catch up with CEO Joshua Resnick to learn more about the NSF grant and ask how PFT technology might be applied to our current pandemic.
Santa Cruz Tech Beat published Fly Longer Lift More and Fight Wildfires (10/24/19), an article by Resnick about PFT, and I was curious to hear what's the company has been up to since then.
Santa Cruz Tech Beat: What's new at Parallel Flight Technologies in last six months since we published your article and video?
Joshua Resnick: Parallel Flight has made a ton of progress over the past 6 months. We have raised capital, brought on a retired CAL FIRE chief as an advisor, built key customer relationships, secured grants, and made significant technical breakthroughs. Perhaps the most notable milestone was the successful close of our Equity Crowdfunding round which raised $1.07M. The capital was raised over the period of about 2 months, which is very fast for a crowdfunding campaign.
Other news for PFT is that we have moved into an awesome space located on the Monterey Bay Academy campus. The space is made available from Airspace Integration which is working to bring together unmanned system focused companies.
Finally, we successfully wrapped up a Phase I SBIR grant from NASA. Fulfillment of the grant was to prove that an innovative safety component which is built into our Hybrid Power Module will enable the aircraft to be safer via redundancy. We are happy to announce that we were successful with the testing. We have provided NASA with data showing the aircraft can continue to fly in the event of an engine loss.
SCTB: One big news is that you just received a grant from National Science Foundation (NSF)! Tell us about this!
JR: We are super excited about this grant, which is another Phase 1 SBIR, just like the NASA grant. These grants are coveted not just for the cash, but also for the networking and entrepreneurial support that NSF is famous for. The NSF funding is to support the further development of new software and control algorithms which are needed to control our unique aircraft. The grant will enable us to accelerate our product development by using computer simulations, scale models, and then finally, our full-scale drone, to test the control algorithms we are developing.
SCTB: Is there new or increased interest for heavy lift drone technology?
JR: In a word, yes. Our focus has been mainly wildland firefighting and we have been working closely with federal, state, local agencies, and private contractors. The devastating wildfire seasons of recent years have driven home the need for new technology for wildfire response. Unmanned Aerial Systems (UAS), also called drones, are one of the new technologies being adopted. In fact, drone adoption among public safety agencies is growing exponentially. Most drones are being used for situational awareness or data acquisition, but agencies are seeing the incredible possibilities of drones actually moving supplies in emergency situations. Heavy lift drones are the bleeding edge of the technology, but I have not found a single agency that isn't interested in exploring the possibilities.
Our initial applications will be controlled burns and unmanned logistics for firefighters on the ground. It is very challenging to move supplies to and from the fire line, our systems will allow easy movement of supplies which will increase the safety for firefighters and effectiveness.
SCTB: Beyond fighting wildfires and supporting other emergency services?
JR: Unmanned systems offer many possibilities for emergency services. Using a heavy lift drone to find and bring initial first aid to a stranded hiker before first responders arrive; delivering a lifeboat to someone stranded at sea; bringing medical supplies to disaster areas with compromised infrastructure – these are all possibilities. Basically, anywhere the drone can be deployed faster or in advance of a helicopter, it will provide value. We have had a lot of different requests, but have generally focused on wildfire as our initial market.
Our drone is unique because it can lift heavy loads for a long time, hover, and fits in the back of a pickup truck or on a small trailer. Our production version, if setup as a six-rotor configuration, will be able to lift 80kg (176lbs) for over an hour, or 45kg (100lbs) for three hours. This gives the aircraft the range, payload, and loiter capability for many different types of missions.
SCTB: Is there a way PFT technology can be applied to help the corona virus pandemic?
JR: We are about 9 months away from our beta level aircraft which will be deployed with a handful of our early customers, so we can't directly help the situation now. However, after this pandemic is under control, the world will be looking for ways to prevent and deal with future outbreaks. Unmanned logistics is going to be part of those solutions. Moving medical supplies, samples, and other emergency supplies anywhere, and especially where infrastructure is damaged or non-existent, will be important capabilities, and our technology will be ready for those missions.
SCTB: How can people be involved and keep up on the latest news from PFT?
They can go to our website, and signup for our news and updates! We are a unique startup company in that much of our funding comes from public investment. This gives people a chance to be directly involved with a startup that is founded on serving the public good. Our newsletter gives readers access to opportunities and the latest info. You can also follow us on Twitter at https://twitter.com/ParallelFlight.
###
Tagged Drones, Parallel Flight Technologies