Companies
Watch: The Wildfire Crisis: Causes + Solutions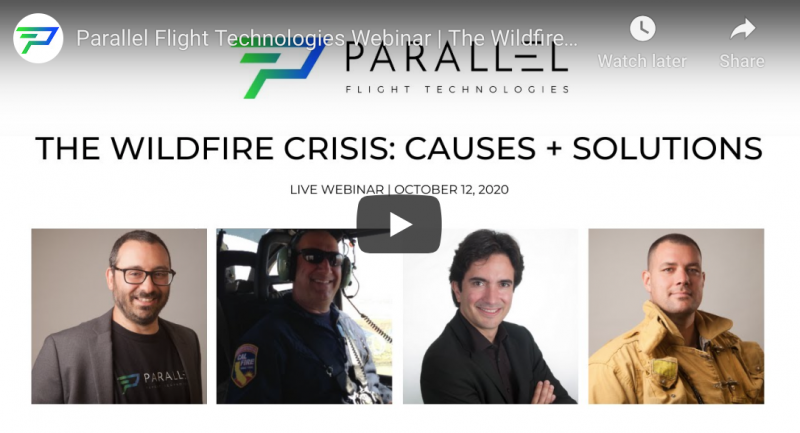 (Contributed)
October 13, 2020 — La Selva Beach, CA
Watch the Webinar:
Parallel Flight Technologies held a round-table conversation (webinar on zoom) on October 12, 2020, about the current global wildfire crisis, its causes and potential solutions.
The online event offered an opportunity to ask the panel of experts questions and learn more about the future of wildfire fighting.
Meet the Panel
Joshua Resnick
Joshua is the co-founder and CEO of Parallel Flight Technologies, an industrial grade drone company with a mission to deliver unmanned systems to save lives, property and the environment. Prior to founding PFT, he led system architecture and electrical engineering for the Tesla Semi Truck program. He previously led state-funded research for the State of Alaska developing hybrid electric commercial fishing boats.

Ret. Chief Scott Watson
Chief Watson devoted nearly 40 years to the fire service, starting with the US Forest Service and retiring from CAL FIRE as a Battalion Chief. As an aerial firefighter, he has over 20 years in tactical helicopter operations. During his career, he worked in the Aviation Program and ultimately provided leadership to the Interagency Military Helicopter Firefighting Program, where he was awarded the Order of California.
Dr. Rodrigo Neito
Dr. Nieto is a geostrategist and defense futurist focused on the consequences of the accelerating pace of change in homeland security and policing environments. He is a research professor at the National Security Affairs Department and at the Center for Homeland Defense and Security at the Naval Postgraduate School and holds a Ph.D. in Geopolitics.
Sevan Gerard
Sevan is the VP of Curriculum Development for Counter-Terrorism Watch, Inc. and has been a firefighter and paramedic with the Los Angeles City Fire Department for nearly 15 years. In his role at the LACFD, he protects lives and property, promotes public safety and fosters economic growth through leadership, management and actions, as an all risk life safety response provider.
###
Tagged Naval Postgraduate School, Parallel Flight Technologies