Companies
Monterey Bay Drone, Automation and Robotics Technology (DART) Symposium launches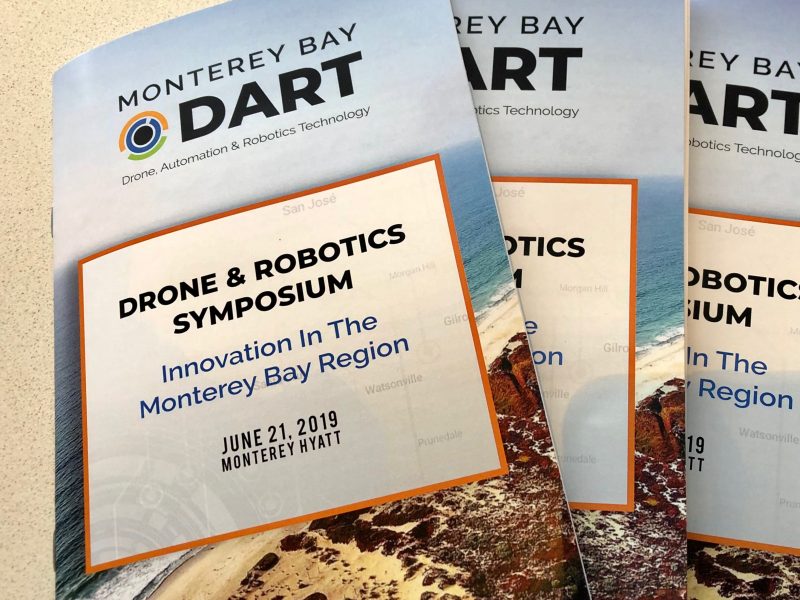 By Karen Kefauver
Special to Santa Cruz Tech Beat
June 25, 2019 — Monterey, CA
Central Coast is uniquely poised to become a leader and drive economic expansion in the drone and robotics industry
Robots aren't just for nerds, explained Dr. Leila Takayama during her recent speech at the inaugural Monterey BayDrone, Automation and Robotics Technology (DART) Symposium. An associate professor at UC Santa Cruz's Psychology Department, Takayama studies human-robot interaction and believes "you shouldn't have to be a robot whisperer to use robotics."
"When normal people think of robots, they think of Rosie the Robot (from the 60's Jetsons cartoon) or the Terminator," said Takayama. "Neither is real and we are far away from those futures…What's happening now is we're having an eye-opening set of conversations," she said of her research. The results of her studies revealed something that really surprised her and reminded her not to make assumptions. 
"Etiquette and social norms matter when it comes to people interacting with robots," said the former GoogleX researcher, citing one example where people felt that robots were intruding on their privacy. 
Santa Cruzans well represented at symposium
Takayama was one of 30 speakers who spoke at the Monterey Bay Drone, Automation and Robotics Technology(DART)Symposium, held June 21 at the Hyatt Regency in Monterey. The symposium also featured Santa Cruz residents Jacob Martinez, founder of Digital Nest, and Cabrillo College Dean of Career Technical Education Gerlinde Brady. Both participated in a workforce development panel.
A crowd of about 160 people mostly from the Bay Area, as well as from Texas, New Jersey and North Dakota, filled the conference room for the day-long event which was preceded by a three-day drone camp focused on drone usage for mapping and data collection. 
Why Monterey Bay?
The proximity to Silicon Valley, the defense institute, environmental organizations, educational institutions and the agricultural industry give the Central Coast a unique advantage in shaping critical research and development, according to Josh Metz, the Economic Development Manager at the Fort Ord Reuse Authority. 
Metz and Chris Bley, founder of InspecTools, Rope Partners, and currently with AirSpace Integration and Insight UpSolutions, are Santa Cruz residents who bumped into each others as neighbors and struck up a conversation about their interests and careers. They harnessed their collective experience and connections and set out on a mission and finding partners to showcase regional opportunities in a field that includes robotics, unmanned aerial vehicles (UAV), unmanned aerial systems (UAS), and drones, terms which are often used interchangeably but have distinct meanings.   
Goal of DART
Metz and Bley gathered a team and created DART, which is a nonprofit organization and also launched a DART Meetup group. DART defines itself as "a new initiative that brings together industry, government, academia and other experts with the goal of mobilizing around building Monterey Bay and the Central Coast as a leader in the rapidly growing fields of the drone and robotics industries."
The time and place are right for the launch DART. The Federal Aviation Administration predicts that the commercial drone market will triple over the next five years, hitting 835,000 aircraft by 2023. And a recent Goldman Sachs Research study projects that between now and 2020, the global market could grow to $100 billion. 
Drones are Here Now and They're Here to Stay
Michael Houlemard, Executive Officer of Fort Ord Reuse Authority, noted in the symposium's opening remarks that the technology driving drones and robotics is "shaping the future for next couple of centuries, not just in academia, transportation, political representatives but also in food safety, homeland security, entertainment and natural resources activity. This is the future."
And not just the future, they are here now. 
It was uncanny timing that Dr. Kevin Jones of the Naval Post Graduate School talked about military drones on the same day President Trump had called off a military strike after an unmanned U.S. drone had been shot down by Iran. 
Dr. Jones said that during his 16 years of studying UAVs, his most interesting project pertained to swarm drones. What distinguishes swarm drones from individual drones is that their components can communicate with one another. That communication allows the swarm to adjust behavior in response to real-time information. This technology has the potential to remake modern warfare.
What's Next for DART?
There's already buzz about next year's event. Symposium co-founder Chris Bley said, "The first event is always to test the waters. Next year, we want to make it bigger and we're making some changes. We think the multi faceted aspect of the Symposium was positive. It's a great start."
For more information about DART visit montereybaydart.org and check out the meetup: www.meetup.com/Drone-Automation-Robotics-Technology-DART-Meetup.
###
Karen Kefauver is a Santa Cruz-based social media marketing coach and freelance journalist with articles published in the San Jose Mercury News, San Francisco Chronicle and the Santa Cruz Sentinel. Contact her at karen@karenkefauver.com.
###