Companies
ICYMI: Drug Discovery Startup Unnatural Products, Received $6 M in Seed Funding led by ARTIS Ventures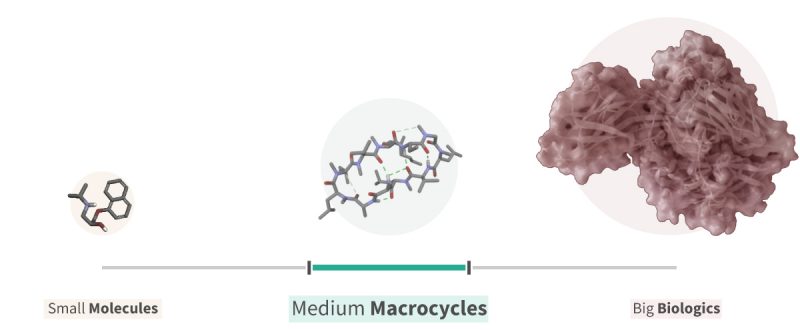 (Source: BIoSpace)
January 28, 2020 — Santa Cruz, CA
[Editor's note: This news dates back to September but it didn't come to our attention until now. Better late than never.]
(Image above: Small Molecules can permeate cells but can't bind complex targets and biologics, such as antibodies, can only act on targets displayed  outside of cells. Macrocycles, which are found in nature, bridge the gap between small molecules and biologics by transcending the traditional boundaries of cell permeability to access deep, complex targets with high specificity. Source: Unnatural Products' website)
Using a combination of machine learning and parallel chemistry to change the way we think about treating disease
Unnatural Products, Inc., a startup pairing AI with chemistry to create treatments for drug targets that aren't amenable to our current therapeutic strategies, announced it has received more than $6 million in seed funding, led by ARTIS Ventures. Other investors include Abstract Ventures, Asset Management Ventures, Better Ventures, Blue Bear Ventures, and Rising Tide Fund. The funds will be used to grow the team, continue platform development, and push forward the company's pipeline of oncology programs.
"In many ways our understanding of human biology, particularly in the role of certain drivers of cancer, has outstripped our chemistry capabilities," said Cameron Pye, CEO and co-founder of Unnatural Products, Inc. "At UNP, we're focused on one of nature's solutions to this problem, macrocycles, to expand our chemical toolbox. A lot of the high-hanging fruit in drug discovery has been called 'undruggable,' and we're working to change that."
UNP has created a unique platform that closely marries prediction with experiment. This rapid, intelligent learning loop has allowed UNP to solve key challenges, such as cell permeability, that have previously been the roadblock in macrocycle development. Though currently focused on select oncology targets, this technology can be applied to a wide variety of urgent clinical needs such as inflammatory diseases.
Continue reading here: https://www.biospace.com/article/drug-discovery-startup-unnatural-products-inc-receives-6-million-in-seed-funding-led-by-artis-ventures/
###