Companies
BBV Founder Spotlight: Cameron Pye — Unnatural Products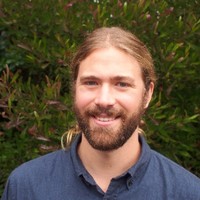 By Irfan Vissandjee
Blue Bear Ventures
February 9, 2021 — Santa Cruz, CA
(Image above: Cameron Pye is the CEO and Co-Founder of Unnatural Products Inc., a local biotech startup. Source: Linkedin)
The BBV Founder Spotlight is a series of posts highlighting founders from our portfolio companies and the incredible work they are pursuing to solve challenges in critical industries such as health and climate through technology innovation.
Tell us about your company. What defines your innovation?
Unnatural Products (UNP) is working to abolish the term "undruggable" by combining machine learning and parallel chemistry techniques. The undruggable space is essentially a cell permeability problem: we can engineer large molecules to bind any challenging target (ie antibodies) but large molecules aren't cell-permeable and thus can't access the vast majority of potential drug targets inside the cell. UNP's platform solves this by engineering cell permeability into larger than usual molecules; unlocking a long sought after target class.
Where did your company's name come from?
We've actually had a solution to undruggable targets for some time in the form of natural products, molecules that nature makes that we repurpose as therapeutics. The type of molecules we're focused on at UNP are called macrocycles and we've been using a variety of natural product macrocycles as drugs for things like immunomodulation and antibiotics. UNP is borrowing a few tricks from nature but using chemical synthesis to expand the tool kit and design this macrocycle class, hence the name Unnatural Products.
What was the motivation behind starting your company?
My co-founder and I had been studying what makes these examples from nature tick during our PhDs at UC Santa Cruz. During that work we had a bit of a data revolution; we went from having only a handful of examples from nature and the scientific community to generating these datasets of hundreds and thousands of cell-permeable macrocycles. With this data in hand, we knew we were going to be able to build on those initial datasets and leverage machine learning to help us predict these properties in new, more targeted ways. Since the majority of our research was funded through collaborations with pharma companies we knew there would be a market for this. Starting UNP seemed like the logical next step on bringing our research to the world.
What role did the University play in the formation of your company or technology?
UCSC was a fantastic place to get our PhD's, the school is really a goldilocks size: big enough to have best in class researchers and facilities, but small enough that there's a tight-knit and collaborative community.
Continue reading here: https://medium.com/blue-bear-ventures/bbv-founder-spotlight-cameron-pye-unnatural-products-2368bf366474
###
Tagged Baskin School of Engineering, Biotech, UC Santa Cruz, Unnatural Products Inc.