Companies
Women Who Cowork announces crowdfunding campaign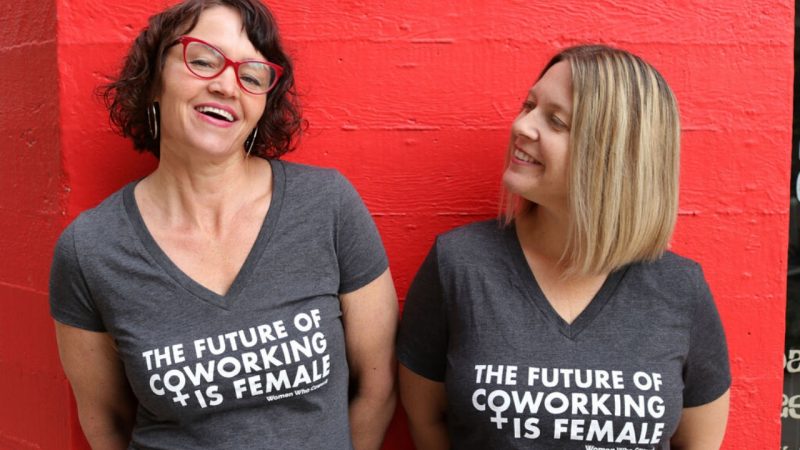 (Contributed)
November 20, 2019 — Santa Cruz, CA and Austin, TX
(Photo above: Women Who Cowork co-CEOs Iris Kavanagh, left, and Laura Shook Guzman. Credit: Jules Holdsworth Photography)
Women Who Cowork, LLC, a global company

cofounded

and co-headquartered between Austin, Texas and Santa Cruz, CA announces crowdfunding campaign
Women Who Cowork (WWCO) is a membership platform for femme-identified coworking owners and operators across the globe. Their mission is to amplify the coworking movement by providing women with support, resources and mentorship. 
Iris Kavanagh, a founding employee of the local coworking space, NextSpace, co-founded WWCO with Laura Shook-Guzman of Austin. They have many local ties and collaborate with Santa Cruz residents including Maya Delano & Jennifer Hamilton of NextSpace, Cat Johnson of Coworking Content and also regard local entrepreneur Barbara Sprenger of the Satellite Centers and DeskWorks coworking software a WWCO member.
The company is raising funds on iFundWomen in order to answer the needs of the WWCO membership, build a revenue model that allows Women Who Cowork to grow their offerings and continue to provide the level of support which women in the coworking movement have come to expect.
>>>Support Women Who Cowork now.
The video for their fundraising campaign was donated by and shot at Looker, for which Iris and Laura are grateful. The featured image of Iris and Laura was shot by Jules Holdsworth Photography.
"Every local person that we work with was brought together by the 'coworking effect' and I just love the story of Santa Cruz's efforts in helping to propel this global movement forward! When we opened NextSpace there were 80 coworking spaces on the planet. Today, there are 19,000 spaces  across the world, most of which are independently owned and operated, just like our local 4: NextSpace, Cruzio Works, Satellite Centers and The Digital Nest. It's exciting to be able to support and grow the independent spaces, especially in the wake of chain coworking, which the media loves to focus on. Collectively we are giving them the opportunity to focus on the power of coworking and its impact on local communities, instead of the single, commercialized unicorn operator." — Iris Kavanagh
Tagged Coworking, Iris Kavanagh, Women Who Cowork