Companies
When I first heard about Plantronics at a career fair, I thought that it was either about plants or planets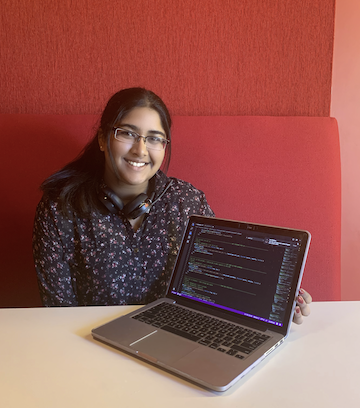 By Shefali Qamar,
Poly Intern, Mobile Development Team
Special to Santa Cruz Tech Beat
August 14, 2019 — Santa Cruz, CA
(Photo above: Shefali Qamar is an intern at Poly this summer. Contributed)
"At first, I was overwhelmed by trying to wrap my mind around the project because it involved so many interactions between things I had never worked with. As we researched, the structure of an end-to-end application became clearer."
Coming into freshman year at UC Santa Cruz, I never expected how much my career would transform within one year. I came in with a vague sense of the applicability of computer science but also a strong determination to learn everything I could about the field. Going through the year, I dived into clubs, hackathons, and projects that ignited my interest in the development of technology for the betterment of society.
When I first heard about Plantronics at a career fair, I thought that it was either about plants or planets. I was excited to discover that this headset and communication technology company spans offices and customers in over 30 countries. Poly (formerly Plantronics) focuses on doing service to giving back to the community while also dreaming big for society; their headsets made it possible to communicate (literally) to the moon and back with Neil Armstrong on the first trip to the moon.
This summer, I was thrilled to enter Poly as a software engineering intern on the mobile development team. As the youngest intern (and thus employee) in a company so established, entering the corporate office where work was intimidating. However, Poly's open office and equivalently open, friendly atmosphere helped me to settle in and gain confidence quickly. Meeting the two other interns on my team and the encouragement I received from my manager and mentor made me quickly forget about my status as a 19-year-old straight out of freshman year. They gave me the opportunity to thrive and showcase everything I had learned inside and outside school, especially putting to use my skill of learning and applying new technologies quickly.
The intern project that I am working on has allowed me to learn several technologies that I had seen used throughout the past year but never had the time to learn with school. At first, I was overwhelmed by trying to wrap my mind around the project because it involved so many interactions between things I had never worked with. As we researched, the structure of an end-to-end application became clearer.
A common issue that users have is that the headsets can only connect to up to two devices at a time. The feature we are building can switch a headset's bluetooth connections between different devices by a user simply telling Amazon Alexa to do so! We are also creating an Android app to interface all of the user's information and facilitate bluetooth connection changes between devices. The time I spend at Plantronics has never felt like work due to this exciting opportunity to learn new technologies and immediately implement them for a real project alongside talented and passionate people. Working on an end-to-end application has given me insight on full stack software development and how different pieces can be pulled together to create a functional product.
During this development process, I have learned about how a project progresses in SCRUM cycles with realistically structured goals and deadlines. This has especially helped me to get a taste of the life of a software engineer, and to guide me in my future areas of interest.
Experiencing day-to-day life and networking in a large company has been eye-opening as well. I often ask questions over conference call or email to teams in places such as Serbia and India and see full-time employees travelling and communicating internationally. Walking across the company building, you can see all of the departments such as design, product management, and more at work. At the same time, executives are often seen having casual conversations with people — including interns — in the office.
From the enthusiasm surrounding our project and conversations with employees, I observed that Plantronics continually strives to make its products the best they can be, and then dream of more! They have a long hallway of patents that I often walk through. The company remains focused on self-improvement rather than competition, leading to their success. This is a valuable lesson that I have been inspired to incorporate into my own career. I am also grateful to have found a path to being successful in taking advantage of every opportunity to learn, being the best that you can be, and making friends that push you to be better.
Life in Santa Cruz has also been very enjoyable in the summer, with several beaches, the boardwalk, and a thriving downtown just a short distance away from one another.
Looking back, my internship at Plantronics has provided me with a range of new technical skills in full stack development, understanding of an end-to-end software application development process, and irreplaceable experience with teamwork. I also had several new experiences including exploring the city with other interns, going sailing with a senior developer on our team, and biking steep hills to and from work. Searching for a place to live and staying on my own for the first time away from college and home was also an adventurous new challenge, and a milestone. This summer has been an amazing opportunity to learn valuable skills and life lessons, and I hope to continue making a contribution to the amazing company in the future!
---
Three Poly interns share their experiences, summer of 2019:
###
Tagged Plantronics, Poly