Companies
My Engineering Internship at Poly: Drones, Code, and Headsets!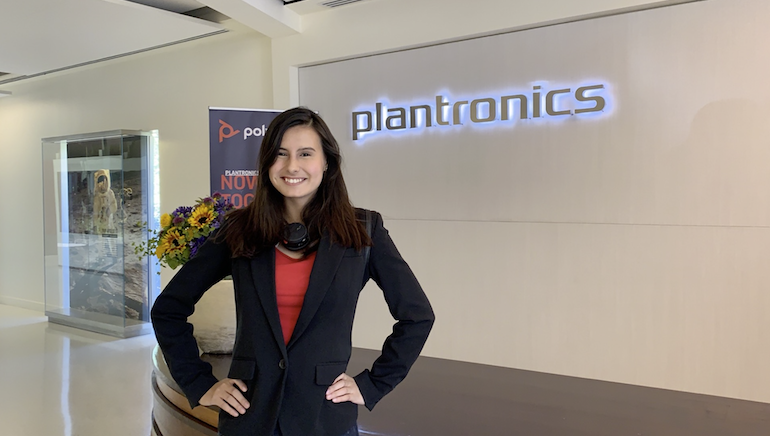 By Charity Funtila
Poly Intern, Mobile Apps Team, Software Department
Special to Santa Cruz Tech Beat
August 14, 2019 — Santa Cruz, CA
(Photo above: Charity Funtila is an intern at Poly this summer. Contributed)
From flying drones to creating an app with what seems like a million lines of code, my internship at Poly sent me through a summer full of learning how to be a software engineer and meeting wonderful people.
As a Santa Cruz local, getting an internship at a tech company that is not over the hill is the dream (cough cough.. Highway 17). This beautiful town is my home. It is where I went to high school (Aptos & Cabrillo College), where I hung out with friends (Rio Del Mar Beach), where I currently go to college (UCSC), and now where I got my first internship at Plantronics. As you may guess, I was very happy to get my internship at Plantronics, not only because it was in Santa Cruz, but also because it was at the biggest tech company in the area. Many students from UCSC apply to their internship program, the competition was scary but that did not stop me from trying.
Plantronics, now Poly, is a headset company that aims to make communication technology better. They are known for helping the community and treating their employees well. And that is exactly what I learned when I started at Poly.
My second week at Poly, one of the best Apple developers at Poly invited me to give back to the community. I was invited to teach children about the exciting world of technology and programming. After a little bit of training, I had the chance to teach aspiring students how to fly drones. I taught them how to fly by using just a controller and by just writing lines of code. This was a great experience, especially because I love teaching.
Since my first year of college I have been teaching young students how to code at Santa Cruz's own up and coming startup, Code Naturally! With both my experiences at Code Naturally and Poly, I have learned how important it is to teach programming at a young age. Programming is hard, and learning while you are young will definitely make it easier in college. Poly recognizes that importance and has a year round program for young students.
So, I didn't spend all my time flying drones (although that would've been fun!). Continuing on the note of supporting young learners, Poly's internship program was a well planned out summer learning experience for us college students. Each intern isn't considered a coffee fetcher, we are given a new title, we are Poly's "Global Emerging Talent". With this title, we are expected to behave as a professional and work with others to accomplish our assigned missions.
As a software engineering intern, I was given a project I did not even understand fully the first time it was explained to me. I held back the questions I so dearly wanted to ask in fear of looking stupid. I started out by googling most of my questions and writing them down for when I got the courage to ask. Slowly I began to get to know the team and got more comfortable asking questions.
In the last few months I have learned more than I would in a college course. Over just a short period of time, we developed an android app, an alexa skill, and integrates a whole backend system for our project. Our program allows users to manage what phones/laptops their poly headsets are connected to. I am very happy and honored to have worked with such an amazing team and look forward to what Poly has in store for the future!
---
Three Poly interns share their experiences, summer of 2019:
###
Tagged Plantronics, Poly