Companies
#CODE831: Why doesn't every student get this opportunity?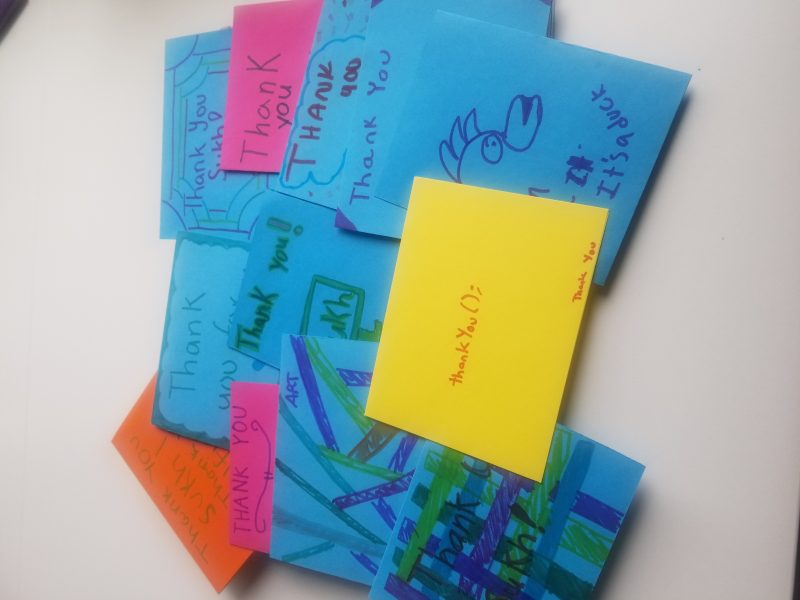 By Sukh Singh
Code Naturally, CEO
July 9, 2019 — Santa Cruz, CA
(Photo above: Thank you cards from the students who attended #CODE831. Contributed.)
Looker Supports Coding for Students of Migrant Farmers
Looker Data Science recently sponsored #CODE831 — a week long coding camp for the students of migrant farmers and low-income families from Davenport and Pajaro Valley.
Over five days, the kids learned programming and computational thinking by coding their own online game. They also caught a glimpse of how this knowledge could be applied during a series of local startup tours that included Santa Cruz Bikes, Life Aid, and of course, Looker Data Science in downtown Santa Cruz.
I had the pleasure of teaching this tenacious and diverse group of students. Working with these students reminded me how little I knew about computers growing up. I didn't even know coding was a thing anyone did much less something that I thought I could do!
I grew up in Moreno Valley, CA – a small town near Riverside where a majority of students at my school relied on free lunch and had no access or opportunity to learn to code. When I arrived at college and took my first computer science class, I failed stupendously and left the course feeling like code just wasn't something I could do. My experience inspired me to teach kids to code in a way that would be motivated by their ideas and the things they want to create with a computer.
Watching students do just that during the #CODE831 camp was so satisfying. Students came ready to learn and even though they had never programmed before, they took on each challenge with vigor. As they understood the basics, their ideas became more and more ambitious. They pushed themselves to learn and apply concepts that I failed to understand as a college student. By the end of the week, students began to see themselves as programmers and openly discussed what they'd like to make next as they continued to learn and code.
On the last day of camp, I received a batch of thank you cards from students. The message that kept coming up is exactly the reason I think everyone should have the opportunity to learn to code. Students feel empowered by learning to code and it gives you an understanding of what it feels like to be a creator instead of a consumer. Check out this showcase of what students created and what the opportunity meant to them!
Seeing their faces light up, their eagerness to learn, and their resilience when facing problems brings up a big question for me: Why doesn't every student in America get this opportunity? There isn't a child going to school today who isn't inundated by technology and they deserve to have a basic idea of how it works and how to contribute to it.
We all know the power that computers hold in our lives on a daily, minute by minute basis, whether it's turning off the alarm you set on Alexa the night before or using your phone to navigate your way around the world. Love it or hate it, all of it is possible thanks to rapid developments in technology and computing. What we often forget is that in one way or another, there are people behind this technology. These engineers, programmers, and designers use computers to make these advances accessible to more people.
Why we need Computer Science in our public schools as a required subject
As technology continues to advance, we as a society need to understand how and why it works the way it does. This is the reason we need Computer Science in our public schools as a required subject (check out the data from Google's latest survey of schools and parents, just above). While almost every school sees the glaring importance of understanding technology and over 29 countries have rules in place making it mandatory to provide Computer Science at the K-12 level, only 22 states in the US require Computer Science as a mandatory subject for high school students and we still lack any national requirements. Without these requirements and without meaningful guidance to schools, many students in the US will finish their grade school education without any understanding of a subject that will only get more important.
I'm not the only one that thinks this. Cornell Woodson, the head of diversity for Looker Data Science said  "Having their energy and creativity here at Looker was a reminder to us all of why every young person should have the ability to learn about coding, data analytics, and other technical roles. It is my belief that in this group of participants is the key to a better global society for everyone."
I'm not saying that every student in our schools will end up in a career in programming or engineering when they finish school. I am saying that regardless of what they end up doing, doors will open for them if they have a basic understanding of key concepts such as computational thinking, algorithms, and how to communicate through a programming language. This will hold true not only if they end up working in tech as a programmer or project manager. Even traditionally non-technical fields like construction will soon be widely affected by technologies like 3d printing and automation. Regardless of what they do in the future, the need for a basic understanding of the technology that they'll use every day is crucial.
How do we get this opportunity to every student in America?
Support teachers with fair wages, fund programs that students like, and ensure every classroom has the capacity to provide enriching computer science curriculum. It won't be easy, but nothing worth doing ever is.
###
Tagged Code Naturally, Looker