Companies
Three-part series spotlights minority women entrepreneurs in agtech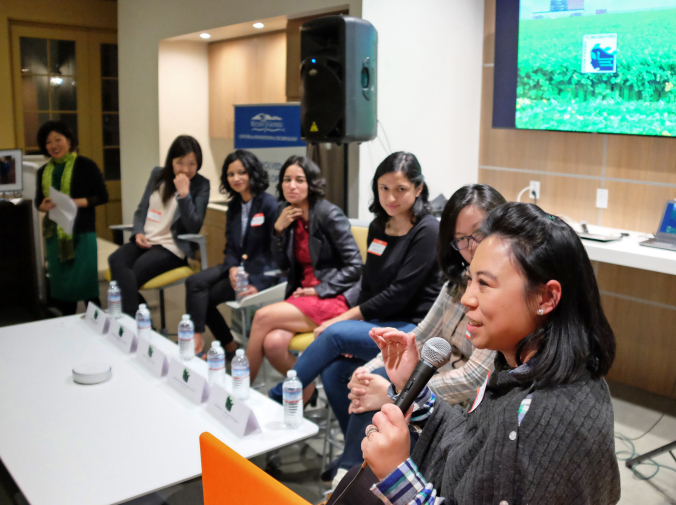 (Source: From Farm to Incubatorsttps)
February 6, 2018 — Salinas, CA
(Photo above: Minority women featured in the article series at the documentary screening and discussion at Western Growers Center for Innovation & Technology on Feb 16 2016. Contributed.)
In a three-part series, journalist Amy Wu tells the stories of minority women entrepreneurs in agtech in the Salinas Valley and beyond. The series is sponsored by a grant by the International Center for Journalists.
Part 1: Spotlighting Women Dedicated to AgTech
The challenges that today's farmers face, from drought and super bugs, to a severe labor shortage and meeting requirements of policies like the Food Safety Modernization Act (FSMA), requires a certain degree of innovation which lies outside the traditions of farming.
Whether accustomed to the thought of robots and technology in the field or not, the reality is that it is upon us in this age to adapt to the challenges and develop tools to help farmers meet their production goals.
Now there is a new generation of women who are creating the technology to help farmers meet those challenges.
---
Part 2: Challenges and Opportunities
Part 2 focuses on the emergence of agtech, a new generation of young women in the agtech space, and the challenges and opportunities they face.
In early February, over 200 people packed the Quadrus Conference Center for the first THRIVE Forum, a daylong conference to connect the agtech industries in Salinas Valley and Silicon Valley. As is usual at ag and tech conferences, most of the attendees were men, and the THRIVE top 50 companies were mainly led by men. But numerous women also attended.
Agtech is the marriage of agriculture and technology, whether it be software or hardware, that uses innovation and technology to produce better crops more efficiently.
---
Part 3: And their daughters after them
Part 3 focuses on efforts from the public and private sectors to develop a knowledge-based workforce, and a new generation of girls and young women considering a future in agtech.
On a recent weekday, Hartnell College's campus in the Alisal District was bustling with a new semester. Students were wide-eyed and almost giddy as they searched for their classrooms.
Hartnell, a community college headquartered in downtown Salinas, enrolls over 17,000 students and nearly 60% are Hispanic. Its Alisal satellite campus, focused on agriculture and increasingly agtech, opened for class in 2013.
Hartnell is a critical piece of what former Salinas mayor Dennis Donohue calls "building a pipeline," developing a well-educated and skilled workforce ready to tackle a knowledge-based economy.
---
Learn more about From Farm to Incubators here: https://farmstoincubators.com/about/
###
Tagged agtech, Salinas, Salinas Valley