Companies
City of Salinas: Results from the 2016 Forbes AgTech Summit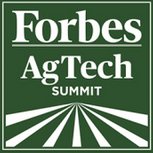 By Spencer Critchley
City of Salinas
September 14, 2016 — Salinas, CA
[Editor's note: Santa Cruz Tech Beat published a variety of article about the Forbes AgTech Summit held last July in Salinas, including Forbes Summit brings innovative agtech industry to Salinas (7/14/16).]
The second Forbes AgTech Summit, held July 14-15, 2016, in Salinas, saw a 52 percent rise in attendance and attracted media coverage worth nearly $829,000 in equivalent advertising impact, based on the rates media outlets charge for advertising. Editorial impact, a rough measure based on the greater credibility of news coverage compared to advertising, was an estimated $4.1 million, according to DCI, an economic development marketing consultant to the City of Salinas.
Stories about the event appeared in Forbes, Silicon Valley Business Journal, Business World UK, and many other outlets.
There were 620 people under the big tent on Main Street this year, with more on a waiting list. That was up from 407 in 2015.
Western Growers Center for Innovation and Technology
Other results included the addition of nine new startups to the Western Growers Center for Innovation and Technology during the time period around the summit, raising the total to 25, and the development of relationships between local and visiting firms. Taylor Farms has one such link with Soft Robotics of Cambridge, Mass., which designs machines that can perform complex produce-handling tasks.
Reinventing Salinas
For an international audience of investors and entrepreneurs, the Summit showcased the City of Salinas as the hub of a growing agtech business cluster. A panel discussion with the title "Reinventing Salinas" featured City Manager Ray Corpuz, SVG Partners CEO John Hartnett, Hartnell College President Dr. Willard Lewallen, Matsui Nursery President Teresa Matsui, and HeavyConnect CEO Patrick Zelaya.
Industry analysts see agtech as one of the most important business sectors in coming decades, as demand increases worldwide for more food, lower environmental impact, and better jobs.
The Summit's total cost to the City was $232,132.70. Of this, $182,132.70 was reinvested in the community through the hiring of local vendors. Some other costs were paid by event co-sponsors.
Those co-sponsors were the Western Growers Association, DuPont, Land O'Lakes, Monsanto, Wells Fargo, Davis Wright Tremaine, Driscoll's, Hartnell College, Harvestmark, Novozymes, PG&E, the Produce Marketing Association, Taylor Farms, UC Davis, the Monterey County Convention and Visitor's Bureau, and 38 Innovation Showcase partners.
An hour before the Summit opened on the morning of Wednesday, July 14, more than 100 people were in line at the registration desk. The first item on the day's agenda was a Maya Cinemas showing of the film "Just Eat It," which is about food waste. Following that, 120 conference-goers had lunch at Giorgio's Restaurant, before going on a tour of the Hartnell College East Campus, the Mann Packing and Taylor Farms processing plants, and the new farmworker housing at Tanimura & Antle in Spreckels.
The first day concluded with an Innovation Showcase, which featured 40 agtech companies and other organizations, and included a keynote address by Lt. Governor Gavin Newsom.
Following a welcome by Salinas Mayor Joe Gunter, Thursday was devoted to sessions on agtech, with topics including water scarcity, workforce issues, robotics, reducing food waste, and supporting start-ups, along with the discussion of Salinas as an emerging agtech capital.
###