Companies
Forbes hosts second AgTech summit in Salinas, July 13-14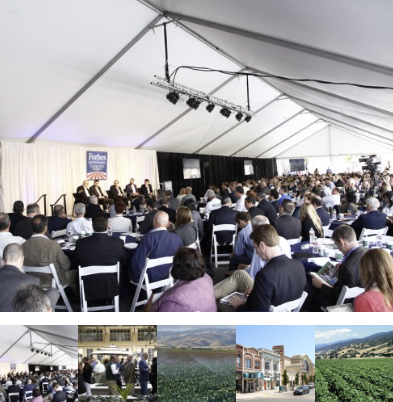 By Sara Isenberg
Founder, Publisher, Editor-in-Chief, Santa Cruz Tech Beat
June 28, 2016 — Salinas, CA
Forbes Media announced earlier this month that it will host its second AgTech Summit July 13-14, 2016, in Salinas Valley. This two-day invitation-only event will bring together over 500 of the most entrepreneurial minds in Silicon Valley and global agriculture to tackle some of the world's most critical challenges. Held once again in Salinas Valley, the summit is expected to foster a lively debate and generate rich networking opportunities while showcasing the latest innovation for farmers, investors and stakeholders of the global agricultural ecosystem.
On the afternoon of July 13, the summit will kick off with field demos at Hartnell College's Alisal campus and plant tours of Mann Packing and Taylor Farms. Participants will also tour Tanimura & Antles' groundbreaking farmworker housing complex—Spreckels Crossing. An Innovation Showcase and the Plenary Sessions will be held once again under the summit's signature white tents on Main Street Salinas. The Innovation Showcase will expand dramatically this year and will feature over 35 innovative AgTech startups focused on a wide variety of solutions that will result in higher crop yields and less food wastage—everything from precision agriculture and robotics to traceability software, genomics and machine learning. Showcase presenters include: Acuity Agriculture, Agribody Technologies, American AgCredit, Blue River Technology, Edyn, Food-Origins, GeoVisual Analytics, Iteris, MagGrow, SoliCulture, SpecRight, Trace Genomics, among many others.
On July 14, the full day plenary sessions will foster a dynamic discussion around such topics as food security, the microbe revolution, labor's next frontier, life after water, and will also feature candid moderated discussions between innovative start-ups and their backers like Mark Johnson, Descartes Labs with Ron Meeusen, Cultivian Sandbox and Dan Harbaug, Soft Robotics with Bruce Taylor, Taylor Farms.
Speakers include:
Julie Borlaug, Borlaug Institute for International Agriculture, Texas A&M
Nathan Dorn, Food-Origins
Suren Dutia, Kauffman Foundation
Robert T. Fraley, Ph.D., Monsanto
Dan Harburg, Soft Robotics
John Hartnett, SVG Partners
Jorge Heraud, Blue River Technology Inc.
Dan Hodgson, FarmQA, Inc & Linn Grove Ventures
Sumer Johal, Agralogics
Mark Johnson, Descartes Labs
Willard Lewallen, Ph.D., Hartnell Community College
Mike Macrie, Land O'Lakes, Inc.
Teresa Matsui, Matsui Nursery
Ron Meeusen, Ph.D., Cultivian Sandbox
Sara Menker, Gro Intelligence Inc.
Tom Nassif, Western Growers
Gavin Newsom, Lt. Governor of California
Thomas Schäfer, Novozymes
Bruce Taylor, Taylor Farms
Kip Tom, Tom Farms
Tri Tran, Munchery
Rob Trice, The Mixing Bowl Hub & Better Food Ventures
Tom Vilsack, Secretary of Agriculture
Bob Whitaker, Ph.D., Produce Marketing Association
Patrick Zelaya, HeavyConnect
"This summit is a fantastic opportunity for the AgTech community to discuss real solutions in accelerating new technologies and capabilities in farming," said Bruce Taylor, Chairman and CEO of Taylor Farms. "We are currently in trials with eight of the participating companies we met during last year's Forbes AgTech Summit."

"We are convening over 500 of agriculture's leading voices to debate, discuss and showcase innovative solutions to the most daunting challenges facing global agriculture," said Paul Noglows, Executive Producer of the Forbes AgTech Summit. "We can think of no better place to do that than historic Main Street Salinas where the Salinas and Silicon Valley's meet."
The founding partner of the Forbes AgTech Summit is SVG Partners and its Thrive Accelerator. Presenting sponsors include Western Growers and the City of Salinas. Partner sponsors include Land O'Lakes, Inc. and Monsanto.
Supporting sponsors include Davis Wright Tremaine LLP, Driscoll's, Novozymes, Produce Marketing Association and Taylor Farms.
Hartnell College will be hosting the Field Demos at its Alisal Campus and both Mann Packing and Taylor Farms will be hosting plant tours.
For more information, go to http://www.forbesconferences.com/event/2016-forbes-agtech-summit/
View/download agenda: http://www.forbesconferences.com/wp-content/uploads/sites/2/2016/06/AgTechSummit_2016_WebAgenda_PDF.pdf
###
Tagged agtech, Salinas, Salinas Valley