Companies
Santa Cruz techies get to CES the hard, fun way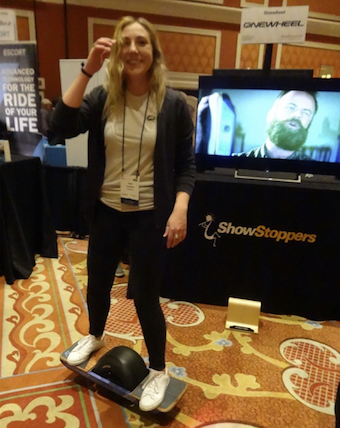 By Steve Blum
Tellus Venture Associates
Special to Santa Cruz Tech Beat
January 10, 2018 — Las Vegas, NV
(Photo above: Jane Campbell of Future Motion shows off the Onewheel+ XR at CES in Las Vegas. Contributed.)
Four thousand companies brought their products to CES this week, but only one was brought by its product. A five person team from Santa Cruz – Jane Campbell, Elai Dankner, Nicola Hopwood, Cade Vlacos and Christian Shaw – rode 300 miles from Palm Springs to Las Vegas on a Onewheel+ XR, the new, extended range version of Future Motion's single wheel, electric powered board.
"It was the most epic journey I've ever done", said Campbell. "You feel so free. The first thing you want to do is call your mom". And she and her teammates did, calling friends and family from the road as they glided through the Mojave desert.
It took them four days to make the trek, arriving in Las Vegas yesterday in a rain storm. Campbell kept on rolling, right into Future Motion's booth at the Showstoppers media showcase last night, where she went to work demonstrating the XR with energy and enthusiasm to spare.
The team did the trip as a relay, swapping off riders and boards every 10 to 15 miles. They rode during the day, and pitched tents in the desert at night. It was a remarkably smooth run with no physical or mechanical problems, except for the diesel support van, which temporarily broke down after gasoline was mistakenly pumped into it.
There was a point – besides the sheer joy of it – to what Mudd calls "the longest recorded Onewheel ride". It was a proof of performance for the XR, which has a range of 12 to 18 miles, more than double the range of the original Onewheel+. That makes it a plausible alternative to a car, said company spokesman Jack Mudd, who also took a turn riding with the team.
Future Motion is headquartered on the west side of Santa Cruz. It was founded in 2013 and initially funded via $630,000 Kickstarter campaign.
You can see the video of the trip here:
Learn more about Onewheel+ XR here:
###
If you wish to republish this article, please follow our Terms of Use.
###
Tagged Onewheel, Steve Blum, Tellus Venture Associates