Featured
Don't microwave fish (AKA Coworking Etiquette: the Ultimate Guide)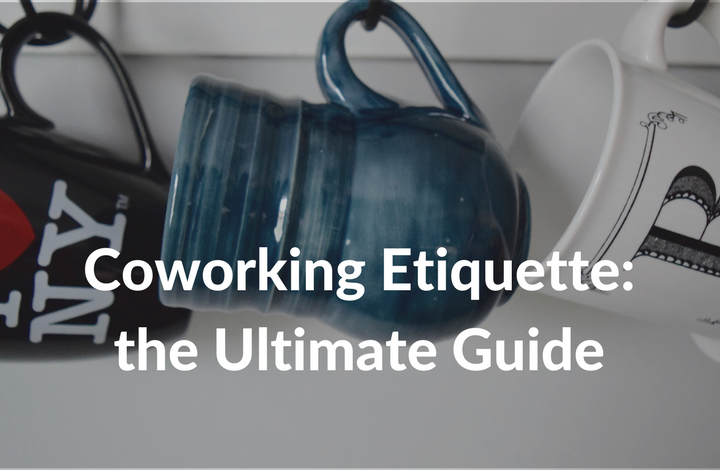 By Cat Johnson
Freelance writer and content strategist
September 27, 2017 — Santa Cruz, CA
I adore coworking. I'm one of those people—not uncommon in the coworking world—who will talk about coworking for hours if you let me.
But there are things that happen in coworking spaces around the world that bug me.
I will never stop being annoyed by loud, one-way phone calls in the open space—especially when there is an empty phone booth 10 steps away. It means one person is potentially disrupting the work of dozens of other people and I don't get it.
As in life, and golf, there are coworking etiquette rules.
Every space has different versions of these etiquette rules, so make sure you know the rules and norms of your space. There are, however, some general rules of coworking etiquette, gleaned from years of living, breathing, working and loving coworking.
1. DON'T TAKE LOUD CALLS IN THE COMMUNITY SPACE
At the very least, be respectful of the people working around you and use a quiet voice—not a self-unaware boom that echoes through the rafters and has your fellow members looking side-eyed at you.
2. IF YOU TAKE THE LAST OF THE COFFEE, MAKE MORE
It takes a team to keep bottomless coffee going. If you drink coffee, you'd better know how to make a fresh pot. If you don't know, ask someone. They'll be happy to show you. Also, if one of your guests or clients takes the last of the coffee, it's on your to brew a new pot.
3. IF YOU USE THE LAST OF THE TOILET PAPER, PUT A NEW ROLL ON
This is an age-old annoyance felt by housemates, employees in a company and coworking members and community managers. Please, change the toilet paper roll. It may seem like a small thing, but the way it reads is that one (or some) of the members of your space don't give, well, a shit about the space and their fellow members. If you need a guide on changing the toilet paper in a coworking space, I wrote one: How to Change the Toilet Paper: a Guide for Coworking Spaces
4. SAY HELLO TO PEOPLE IN THE COWORKING SPACE
My friend Susan, one of the founders of Office Nomads in Seattle, talks about how relationships develop over time—that they're not made in one encounter, or even a few. The best friendships and connections build on themselves and grow organically.
The easiest way to start a friendship is to say hello. When you encounter people you don't know in your coworking space, say hello. That may be the beginning and end of that particular conversation, or it may lead to a longer conversation. Either way, you've set the tone that you're part of the community and you're interested in getting to know the other community members.
5. INTRODUCE YOURSELF TO NEW MEMBERS
This one builds on #4, but I think it's even more important. The curve of comfort new coworking space members go through depends, perhaps entirely, on how welcome they're made to feel in the space. Great community managers accelerate this by introducing new members around, making sure they know people working in aligned or compatible fields, and modeling a culture of openness and friendliness. But it's also on members to introduce yourself to people you start seeing around the space.
If you see someone looking for the bathroom, or staring puzzledly at the coffeemaker, or trying to make eye contact with people, by all means, take a few minutes and introduce yourself. They'll remember your openness and kindness forever and the community will grow stronger and more connected more quickly.
6. SHARE GENEROUSLY OF YOUR TIME AND ENERGY
This morning, one of the members of my home coworking space asked me to look over an important email before he hit send. Last week, someone asked me how to rephrase a blog post headline they were working on. Also last week, I asked a fellow member to show me a CRM tool they used, and a social media consultant friend offered insights into her favorite social media scheduling platform.
The best coworking spaces are full of people sharing generously of their time and expertise. We don't bill each other for 15 minutes of consulting, we share generously because, as Leonard Nimoy put it, "The miracle is this: The more we share, the more we have."
7. PARTICIPATE
Show up for stuff. Participate. Be part of a community. Coworking spaces have events, social good programs, social happenings, off-site events, and lots more. Get in on the action. By doing so, you help strengthen the bonds of your community and you may get a great idea about something you'd like to host for, and with, your fellow members. Also, doing things is fun.
8. CLEAN UP YOUR DISHES
My friend and coworking pioneer Tony Bacigalupo wrote a whole book to help coworking space operators, called No More Sink Full of Mugs. Like the coffee thing, the dishes in the sink thing is an issue at coworking spaces around the world.
Has anyone solved this problem of people leaving their dirty dishes in the sink or on the counter? If you have, let me know and I'll happily pass your strategy along to everyone in the coworking world—and they'll be thrilled. If your space is still working on this, make sure you're part of the solution and not part of the problem by cleaning up your dishes.
9. USE HEADPHONES WHEN WATCHING VIDEOS
I debated including this one because it happens so rarely. Every once-in-awhile though, someone will start a video without putting their headphones on. This is only one tiny pinch less annoying than loud calls in the open space.
One time, the guy who did it didn't realize his headphones weren't plugged in and was super-embarrassed when it was pointed out. Occasionally, someone does this knowingly and gets a collective glare and annoyance of the other members. Don't be that person.
10. ASK IF IT'S A GOOD TIME TO TALK BEFORE INTERRUPTING SOMEONE
Coworking spaces are full of hustle, bustle, chit-chat, deep conversations, collaboration and connecting. If you'd like to talk with someone, ask if it's a good time. If it's not, they'll tell you. The flip side of this is if someone wants to talk with you and it's not a good time, be sure to tell them as much rather than throwing your work and schedule off to chat when you don't really have the time.
11. IF YOU SEE SOMETHING THAT NEEDS TO BE DONE, DO IT
Yes, coworking spaces have community managers and teams that make sure the space is kept in good shape. That being said, community managers are part of the community (a beloved, vital part, if they're doing it right), not the house cleaners and servants. If you see something that needs to be done, and you can do it then, by all means, do it.
I'm not talking about crawling under the sink to fix the leak (unless, of course, you have expertise in fixing leaks). I'm talking about picking up the garbage left on the counter, or putting the rolling white board back in its spot if it's left in the middle of the space, or closing the door if it's been propped open. You get the picture, right?
12. CLEAN UP AFTER YOUR GUESTS
If you bring people into the space, they are an extension of you. Make sure they clean up after themselves, or you clean up after them. This goes for putting their coffee mugs in the dishwasher, pulling the conference room together after a meeting, and clearing out anything left by them in the space.
13. LEAVE MEETING ROOMS IN BETTER SHAPE THAN YOU FOUND THEM
If you use a meeting room, make sure it's ready for the next group when you leave. Push the chairs in, clear the mugs and glasses, dump the trash and recycling if they're full. Think how you would want the room to look if you were bringing an important client into it, then do that.
14. GOOGLE YOUR QUESTION BEFORE ASKING THE COMMUNITY MANAGERS
One of the things that bogs down a community manager is having to answer questions and do things for members that they could easily find out, or do, themselves. For instance, if there's a new printer and everyone has to connect to it, read the instructions sent out by the community manager about how to connect to the printer before approaching the community manager to ask them. If you've already tried it and can't get past an issue, by all means, enlist their help. But give it your best go first.
15. TREAT YOUR COMMUNITY MANAGERS LIKE THE MULTI-TASKING, AWESOME ROCKSTARS THEY ARE
I get the sense that most community members don't fully understand how much community managers do. From taking care of the space itself, to problem-solving on-the-fly, dealing with vendors and suppliers, interfacing between the community and space owners, fielding calls and emails from prospective members and other businesses—all while doing in-person and online community-building with existing members. It's a juggling act that requires focus, smarts, tech-savvy, patience, and a friendly, forgiving personality. This is total rockstar stuff, so treat your community managers as the rockstars they are.
16. DON'T PARK IN THE PHONE BOOTHS
If you have a call, please use the phone booth. If you have a few calls throughout the day, please use the phone booth. If you have back-to-back-to-back calls all day, every day, it's time for you to consider an office so you can do your thing and the rest of the members can access the phone booths.
17. DEFAULT TO INCLUSION
Coworking, at its finest, is an exercise in diversity and inclusion. Stretch your comfort zone, reach out of your usual circles, and default to including people in events, conversations, ideas and solutions.
18. DON'T OVERSTAY YOUR TIME IN MEETING ROOMS
If you've booked a meeting room from 9:30-10:30, then at 10:30, you need to be out of the room. Don't make the next person have to come kick you out and don't take advantage of your community managers by parking in the meeting rooms when you're not scheduled to be in them and making them kick you out. No one wants to do that.
19. CELEBRATE DIVERSITY
We are stronger, better, cooler, more interesting together. Embrace people who are different from you. Look at things from a new perspective. Support people who are marginalized in the world and make sure your coworking space is a welcome place to all who want to contribute to the community in a positive way.
20. DON'T MAKE THE COMMUNITY MANAGERS THROW YOUR NASTY LEFTOVERS AWAY
Don't let your leftovers in the fridge turn into a science experiment. Nobody wants to clean up stinky, mystery leftovers, so don't make your community managers do it.
21. SUPPORT YOUR FELLOW FREELANCERS AND INDEPENDENT PROFESSIONALS
Coworking spaces are full of talented, inspired, cool people. When you need professional work done, hire your fellow members. From graphic design, website development and photography, to copyright consultation, accounting and coaching, chances are good you can find an in-house pro to get the job done.
22. DON'T MICROWAVE FISH
Yes, that's a thing.
###
This article was originally published here: https://catjohnson.co/coworking-etiquette-ultimate-guide/
###
Tagged Cat Johnson, Coworking