Companies
Thoughtfull Toys Launches Enduro Kickstarter Campaign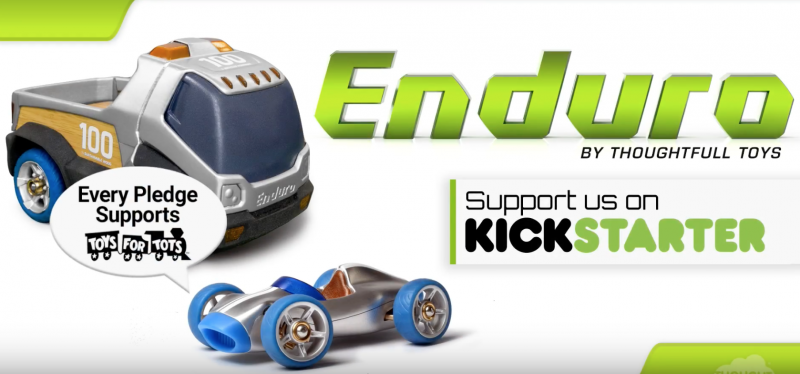 By Sara Isenberg
Founder, Publisher, Editor-in-Chief, Santa Cruz Tech Beat
February 23, 2017 — Santa Cruz, CA
"Toy Cars Built for Tough Drivers"
Thoughtfull Toys, a local toy design company, has recently introduced Enduro on Kickstarter. At press time, they had already raised $15,864 of their $20,000 goal with 41 days to go. Think they'll make it?
From the campaign:
Introducing Enduro – Enduro was born out of our love for beautifully crafted, high quality toy cars and trucks. Enduro vehicles have true-to-life, "hands on" driving mechanics and superb build quality. They are built tough from 100% sustainable materials and designed to last for generations – just like the great classic toy vehicles of the past, but even better.

Enduro was primarily built for kids, aiming to provide them with toy vehicles that they could take anywhere to explore the world through open-ended play. Surprisingly what we've found is that adults love these vehicles as well, as both collectibles and desk toys!

These vehicles drive like nothing you've ever experienced before. Enduro's patented steering and suspension system uses precision mechanics and super low-friction bearings, allowing these weighty vehicles to glide effortlessly, and handle turns like an exotic sports car.
Learn more here: https://www.kickstarter.com/projects/thoughtfulltoys/enduro-toy-cars-built-for-tough-drivers
###
If you wish to republish this article, please follow our Terms of Use.
###
Tagged Thoughtfull Toys