Companies
Modarri is talk of the New York Toy Fair
by Sara Isenberg
Publisher, Santa Cruz Tech Beat
Three dads who never grew up
You may recall Santa Cruz Tech Beat's December feature about Modarri Cars by ThoughtFull Toys, the company started by three dads to put great toys on the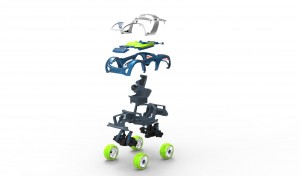 market for their kids, and who are trying to reinvent the toy car. Based on their recent successful Kickstarter campaign and the buzz surrounding them at the recent New York Toy Fair, they seem to be succeeding.
The three local founders are David Silverglate, whose former Rhino Toys developed the super successful Oball; Brian Gulassa, who has worked for a who's who of major toy companies and designed over 200 toys in his 25-year career; and Trevor Hite, an operations specialist with over 20 years of experience in multiple fields managing lean and profitable companies.
The trio just wrapped up their Kickstarter campaign last week where they raised over $65,000, which was 3 times their goal.
"Kickstarter was a blast," said Hite, "We met and were able to get input from people from all over the world.  It reinforced to us that cool cars and great open ended play toys are in demand internationally not just domestically.  Not to mention we raised some cash to help pay for the balance of the tools."
The three founders also just returned from the New York Toy Fair where Modarri was the talk of the show.
"We never slowed down the whole show.  We had about 30 different international distributors wanting to distribute or product in pretty much every corner of the world, we wrote hundreds of orders to small domestic stores, and we had strong conversations with most of the major retailers about carrying our product, we were mobbed the entire show," said Hite.
Modarri also won an award from Popular Science recognizing the best toys of the show, and they were featured in Gizmodo. "We are all a little nerdy, so I'm not sure we weren't more excited about the Pop Sci award than if they had given us the Nobel Prize."
Silverglate says:
"We took care to design beautiful cars that teens and adults would also love and want to collect. We love cars and often find ourselves surfing the internet for cool car designs, drooling over muscle cars, race cars, concept cars, toy cars, playing with our kids' cars and adding to their (or our) collections. We think and hope that a lot of you are like us and never really 'grew up.' Our goal was to create toy cars that are sleek, gorgeous, fun, durable, drivable, buildable and interchangeable."
A group of investors who previously backed Rhino Toys has ponied up to help the trio launch Thoughtfull Toys, and the group is currently engaged in raising a second round of financing from accredited investors.
What is a Modarri Car?
Each modular Modarri car includes a chassis, hood/windshield, seat pan, seat, fenders and frame, hex tool, four wheels, front suspension and rear suspension. The sleek design, modularity, use of the tool and suspension features make Modarri totally unlike any other toy cars in the market. Modarri is a new kind of miniature car line that you drive with your fingers using realistic steering and suspension. Design your own unique cars for the best performance and looks by swapping parts from one vehicle to another using the included Hex Tool. Invent new tricks and cool moves. Modarri cars aren't only for kids (recommended for ages 6+ and not for ages 0-3 due to small parts).
For more information: http://www.modarri.com/
###
Sara Isenberg publishes Santa Cruz Tech Beat for the benefit of the extended business and technology community. When she is not volunteering her time for the tech scene, Sara makes her living by managing software projects, web strategy planning, and providing development team services (including account management, vendor management, strategic partner management, beta project management, referrals to qualified technical team members, and more). Please visit her website: Sara Isenberg Web Consulting & Project Management, or contact Sara by email if you have any project management, account management, or Development Team leadership or service needs.
Tagged Kickstarter, Modarri Cars, Thoughtfull Toys