Companies
Thoughtfull Toys Rolls Out a Crowdfunding Campaign that Invests in the Future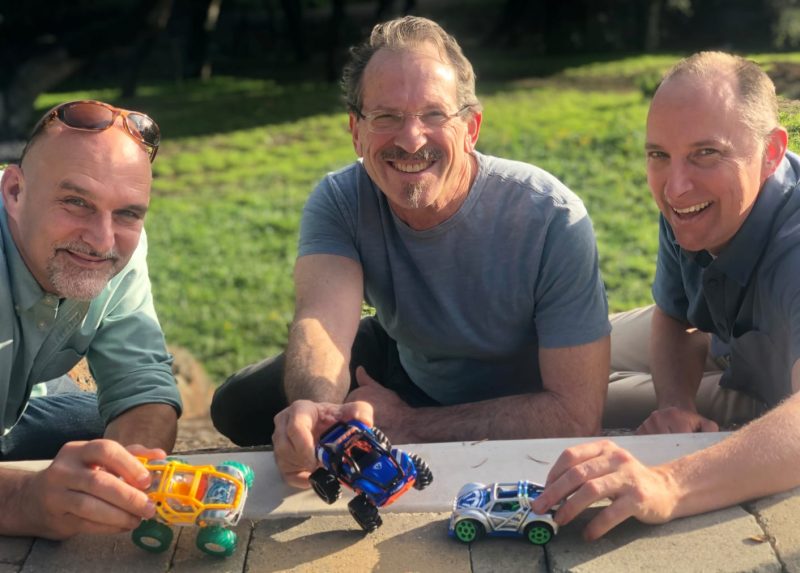 (Contributed)
February 24, 2020 — Santa Cruz, CA
(Photo: The "three dads" behind Thoughtfull Toys: Brian Gulassa, David Silverglate and Trevor Hite. Source: Contributed)
Using equity crowdfunding site StartEngine, David Silverglate, founder and CEO of ThoughtFull Toys, Inc. is appealing to the imagination of potential investors who are as passionate about quality toys and tech as himself.
"Our equity crowdfunding campaign has been live now for just over a week and we're very happy to say we've raised $86,396 from 114 investors to date! While this is a good start, we are actively seeking more investors to help us fund our efforts," said Silverglate. "We have an amazingly engaging set of products but little brand recognition. We've had success on three Kickstarter campaigns. We're raising funds to fuel marketing, especially building our brand recognition." 

Based in Santa Cruz, ThoughtFull Toys first created the popular Modarri brand when three dads—Silverglate, Brian Gulassa and Trevor Hite—put their heads together to create the "Ultimate Toy Car" they wish they had as kids. The result was the multi-patented Modarri toy vehicle–  hands down the most maneuverable, customizable toy car on the market.
But as with any physical toy comes limits, prompting the inquiry: how to bridge the physical and digital worlds to take Modarri into the virtual realm.
With a shared vision to become a major 21st century entertainment company, the ThoughtFull Toys team added a Modarri Virtual Garage to their website, and Modarri Car Configurator where kids can not only design their Modarri cars virtually, but collect and share without limits.
"Our goal is to continue providing endless entertainment and excitement to the Modarri Community," said Silverglate. "We envision adding a seamless, immersive play experience with a combination of physical and digital assets."
Working with Autodesk and Cabrillo College's Makerspace, Silverglate has been developing a design and engineering curriculum for kids with Modarri at its center. The scenario, a two-day conference where students, using Tinkercad, can modify Modarri hoods, fenders and frames to their own specifications, 3D print them, sand and paint. Possibly even inspiring future inventors and engineers.
Although current revenues are based on physical toy sales, digital community and digital asset sales are expected to surpass these numbers. With over 70 years combined experience in the toy industry, and proven past success, Silverglate is confident, "We know how to invent and ramp up great products."
Over the past 5 years, the global toy market has seen 17% growth. After years of company and product growth ThoughtFull Toys is on track to reach profitability. Since 2018 their presence has grown from under 500 stores to 1800+, which includes over 1200 Walmart stores, Mall of America, boutique stores nationwide, and even Universal Studios Florida. Their social media community has expanded from 4000 to 100,000 since July.
With equity crowdfunding like StartEngine, the public has the opportunity to invest in small, early-stage companies in exchange for shares. For as little as $250 an individual can be a "First Tier" investor. The ultimate goal for ThoughtFull Toys, said Silverglate, "is to build a community of investors that influence others and act as our brand advocates. We're confident that we'll all be working together for a long long time."
To visit ThoughtFull Toys crowdfunding campaign, click here.
The Three Dads:
David Silverglate, chief executive officer, is an industry veteran who has invented a handful of the best-selling toys worldwide, including Oball, Woosh Ring, Skyblaster, and more. Before founding ThoughtFull Toys, his previous company, Rhino Toys, had a successful exit.
Trevor Hite, chief operations officer, is a master builder and operations specialist with over 20 years' experience building roller coasters and unique products. As a father of five, he keeps the creative team on track for success.
Brian Gulassa, chief design officer, has designed over 300 toys for companies like Hasbro, LeapFrog, Green Toys, Rhino Toys and Wild Planet. He has been teaching advanced design courses at California College of the Arts for 15+ years.
###
Tagged Thoughtfull Toys