Companies
The Retro Challenges of Runner3

By Jason Cirillo
Choice Provisions
October 6, 2016 — Santa Cruz, CA
[Editor's note: Santa Cruz Tech Beat published Gaijin Games Reborn, 7/17/14, about Gaijin's name change to Choice Provisions. Before that, we wrote about Gaijin in Garden of Gaming in Santa Cruz is Tilled and Ready for Growth, 4/15/14. If you're curious about the Runner series, see the quick summary, below, from Choice Provisions' co-founder, Mike Roush.]
Well hello there! I'm Jason Cirillo. I work on video games here at Choice Provisions, and everyday that I come to work, there's always some kind of wacky new task to jump on, as well as some kind of bizarre foreign snack that we're all daring each other to eat.
This time around, I'm absolutely thrilled to be hard at work on Runner3. The last time I worked on a Runner game with a numeral in it, it was Runner2. There, a big part of my job was designing the look and feel of the Retro Challenges. Well, I guess my work wasn't a total disaster, because I've been asked to design the Retro Challenges yet again.
For those of you who don't know, (which is approximately 99.99% of you) I am a huge fan of not just old video games, but also old cartoons and animation. I have always really enjoyed the stylings of Friz Freleng (Pink Panther, Ant and Aardvark) and Hanna-Barbera, particularly works from the 1960s and 70s. We thought this time around, it might be a lot of fun to explore those styles and see what we could do with those as inspiration.
Here's a preview of the style we're going for in the Retro Challenges of Runner3. Although this art isn't technically final, it's fair to say that it's very close: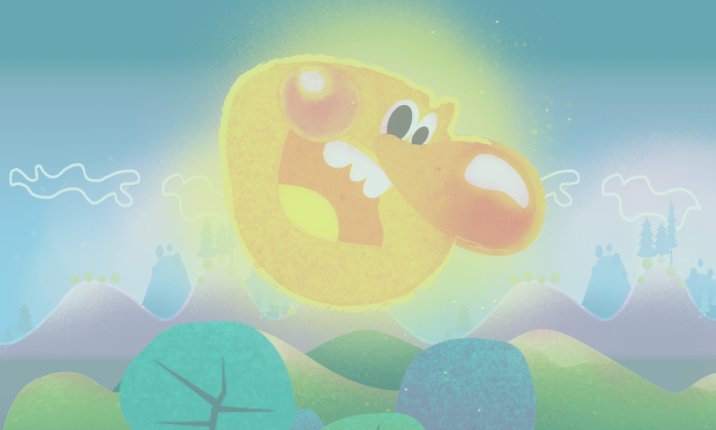 CommanderVideo has explored worlds reminiscent of the Atari 2600 days as well as the 1980's 8-Bit NES style era, and we wondered what it would be like if he found himself transported to a world unlike any he's ever visited before.
So far, all I can tell you is that we are having some gigantic belly laughs at the world we're putting together for CV to romp around in. The terrain and creatures and enemies that lurk here are absolutely unlike anything you've ever seen before in CommanderVideo's worlds. I am genuinely very, very excited about what we're doing with these special "Retro" Challenges this time around, and I think you're really going to love it.
I'd love to answer whatever questions I can (at this point) as well as hear your thoughts on Retro Challenges! Have at it in the comments.
Till next time!
– Jason
[Editor's note:] If you're curious about the Runner series, here's some background information from Choice Provisions' co-founder, Mike Roush:
THE HISTORY OF RUNNER…

The RUNNER series began in 2010 with BIT.TRIP RUNNER, the fourth game in the original BIT.TRIP series. It's considered by many to be one of the best titles on the WiiWare service, as well as one of the greatest runner games ever made. It even won the "Excellence in Visual Arts" award at the 2011 Independent Games Festival!

The sequel, BIT.TRIP Presents… Runner2: Future Legend of Rhythm Alien, was released in 2013. It won the 2013 Machinima award for Best Indie Game and was also featured in the Guinness Book of World Records as the highest-rated Wii U title for that year.

It also had a drunk pickle as a playable character, an astonishing feat which somehow earned us no accolades.

THE FUTURE OF RUNNER…

Our hope for Runner3 is the same as our hope was for Runner2: to challenge ourselves to make a game that outdoes its predecessor in every possible way. It's a lofty goal, but we plan to do whatever it takes to make it happen.

Whether or not we'll be able to outdo a playable drunk pickle remains to be seen.
###
The article above was originally published here: http://www.runner3.game/devlog/2016/9/30/the-retro-challenges-of-runner3
###
Tagged Choice Provisions, game developers