Companies
Q&A: Nathan Dorn, Food Origins, on solving growers' problems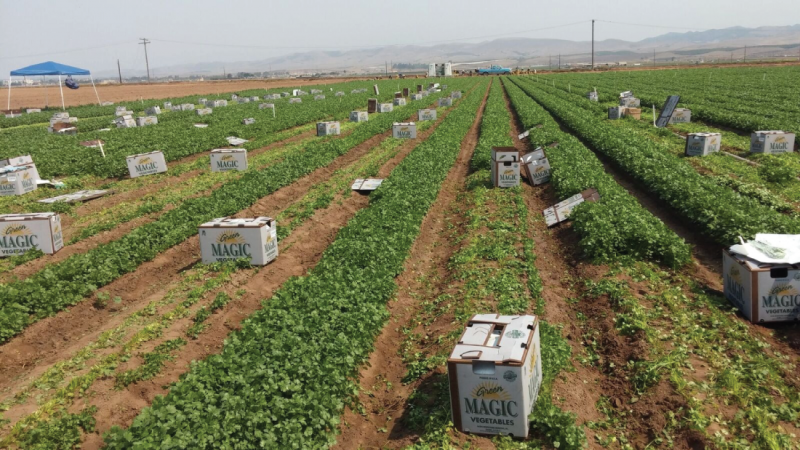 By Jan Janes
Special to Santa Cruz Tech Beat
August 25, 2016 – Salinas, CA
(Photo above: Food Origins has data trials that show who picked it, where they were standing when they did, the minute and second that they picked it. Contributed.)
Food Origins data improves food production quantity, quality and safety
[Editor's note: Santa Cruz Tech Beat published Ten Hot Companies to Watch in the Monterey Bay Region's Growing Ag Tech Hub, 10/1/15. Food Origins was just launching that week.]

I had the chance to talk with Nathan Dorn, founder and CEO of Food Origins. He shared his passion about getting technology into the hands of growers and especially harvesters, to gather good information. Precision data acquisition in agriculture impacts the future of food and will determine how well growers can feed the world as the population increases.
JJ: What is Food Origins and how did it get its start?
ND: We're a Salinas business working to bring the right tech into agriculture. We're not a tech company that's trying to force our solutions into another market. That's a very important point. We're trying to solve our own problems. Growers' problems. Food Origins is precision data collection for hand harvested crops, acquiring data from farm to fork and then from fork back to farm.
In 2011 I was working on my MBA, challenged because I couldn't find the information to prove that different techniques and strategies were solving problems. I identified that there was a gap between the data needed and the data available. Later, in 2014 I met Dr. Richard Sauers, mathematics professor at the University of Illinois. He thought there had to be a way to collect more meaningful data in specialty crops. He shared what he had done and our interests merged.
With growers on the West Coast and the Midwest, Food Origins focuses on specialty crops. In addition to berries we're looking at table grapes, lettuce, broccoli, melons, all the hand harvested crops. We started with GPS on tractors and combines and were able to get lots of data. As we put the information into a database, it helped us analyze everything from variable rate planting to variable rate fertilizers and machinery, as well as deciding which crops to farm. Precision ag data moves us from seeing variations in whole farm yields to seeing individual square foot areas. Growers can make smaller, smarter decisions.
JJ: The world population is growing. Estimated at more than 7 billion now, it is predicted to reach or exceed 9 billion by 2050. How will the ag industry feed the world?
ND: I think the challenge will be more about giving 9 billion people the food security that 7 billion people have. I think we can grow it, as farmers. We achieve higher yields every year and every crop, we grow more and more food, over and over again. The challenge now is other resources, and that includes quality water and quality land. I think the most constrained resource is going to be quality people to do the work.
Today it takes one person to farm 2000 acres of corn; 100 years ago, it took one person to farm 10 acres of corn. With hand harvested crops, it takes about one person, one full time employee, to farm 30 to 50 acres of wine grapes, which includes some mechanization of equipment. But it takes one person to farm 1 acre of strawberries. So, with 7 billion people, we already know there's a shortage of people to harvest all the strawberries needed to feed those people. Plus, there are fewer people doing the work. When we get to 9 billion people we'll have to build better systems to get the nutrition.
Robotics and machinery would be fantastic tools to do the job, but there's a balance. We will always need people do some of that work. As employees becomes more valuable, we could maximize that resource, giving them the capacity to be the most productive, and rewarding those who are the most productive.
We need to put data tools into the hands of the people who work in the fields. People gathering the data are our most valuable resource. You can't see from an airplane whether a bug is infesting your strawberry or apple. But you can see it when you do it by hand, and that precision determines whether the fruit goes into a box or onto the ground.
We are going to create two economies, the food that you can afford and the food you no longer can, because there are so many buyers for it and fewer producers of it. And that's for first world countries. We don't see the availability of fresh fruits and vegetables in second and third world countries. And even here we're talking about it becoming more scarce. That's food insecurity.
JJ: How is Food Origins implementing data collection?
ND: Agriculture is a hardware enabled industry, and everything we do requires some kind of equipment. A shovel, a tractor or some kind of data collection equipment. If you don't have the right data collection vehicle, you can't do good data collection.
In ag, especially in hand picked specialty crops, we don't have the right hardware yet. We have data and an economy being created from the data. In California, the most valuable food crop is strawberries, even more valuable than wine grapes. It's the number one crop in most of the coastal counties between Los Angeles and San Francisco. It employs almost 25% of the ag work force in California. Because of its value, it's completely relevant to have a piece of hardware that enables us to get the data we need to do this better.
Food Origins is a software start up that's enabled by smart hardware. In the short term we will help identify the faster harvesters, the people who do the job better, and create an economy where those harvesters earn more money for the work they do. In the long term, we're going to be able to spell out how much that work is worth. We will also understand the economics of the machinery or robots, how they work and whether they'll pay off. We need to deliver precise data for everybody to be believers in the numbers.
JJ: Farmers and growers consider their information intellectual property. How will you manage sharing data?
ND: Data itself can't be considered a silo. A farmer owns the data about his land. An employee owns the data about their productivity. You have a paycheck stub that describes how many hours you worked, when you get paid by piece rate, which describes how much work you've done. You can import that data and carry it to someone else to demonstrate how productive a grower or a harvester you are. For both to have portability is important.
There is data inherent only to the farmers. But some data is inherent and owned by the harvester. They should be able to carry that data to the consumer. There are a lot of melon growers and spinach growers who wish today the consumer could have seen precision data when the growers were trying to prove they were not the company that had E. coli or listeria issues. We don't all want to go down as an industry because of one honest, accidental mistake by a grower, whether he was careless or had done complete diligence. There will be mistakes in food, it's a tough business to be in, but data is part of what should keep us safe and keep our businesses and industry going.
JJ: The consumer is going to ask, "How are you keeping my food safe?"
ND: Right now we have data trials with customers where we're capable of showing harvested produce. By walking up to that produce, you can see who picked it, where they were standing when they did, the minute and second that they picked it. You will know how many miles away it is from where you are today, how many minutes and seconds ago that was in the past. We can show what the soil health reports were, what variety of product it is, when it was planted, the nursery the plant came from, the water quality report done on that well, the farming style, technique or methods that were used with that crop. Any data that was entered in, we're able to query and record with the harvested product.
Also, we can grow crops from field to fork, but we're able to take data from fork back to the field. We provide the capacity for the consumer to give direct feedback to the person who picked that product. If they wanted to, they could give them a tip. We haven't implemented that yet, but we will have the capacity this year to allow you, the buyer of a box of strawberries, to send 50 cents to the person who picked it.
We have the capacity for the consumer to give the harvester a quality score, feedback on quality, you can even rate the product itself. So we're not just giving data from farm to fork, but fork back to farm.
JJ: How will the growers respond?
ND: They will grow more of the varieties people like and more of the crops that bring better revenue. They'll hire more of the people who do a good job harvesting, that do a good job representing them and the farmers. There are going to be lots of changes that happen as a result of good data and communication exchange.
JJ: How does the consumer acquire and share information about the food product?
ND: We send it over the cloud, from the field to the cloud, then we tether it to other data we have stored in the cloud and include it in the label of the product. When a person refers to that product, they'll use the product label, go to the cloud and see what information is tied to that product. The consumer uses their smart phone to view the product before they buy it or after they buy it. Consumers will put their own information on top of it.
JJ: What are your short and long term goals?
ND: Innovation is key for us. Short term, our focus is helping the farmers get better. Medium term we hope to be able to port all the data to the consumer. Long term, we want the consumer to bring their data back to the farmer. We also want to see the farmers innovate as a result of tapping all that data.
Food Origins is doing great, we're working on a number of things, and we can't ask for a better time to be innovators. We're looking for great people. If there are people passionate about us and these issues and want to be involved, we'd love to talk with you. We need money, but that's not as important as having the right team. We'd love to have people involved.
###
If you wish to republish this article, please follow our Terms of Use.
###
Tagged agtech, Food Origins, Salinas