Companies
10 named THRIVE Accelerator winners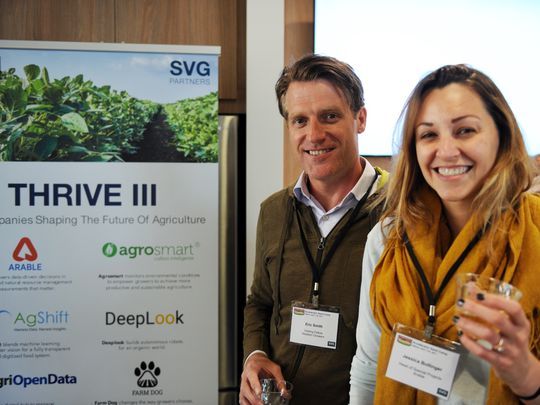 By Amy Wu
The Californian
April 13, 2017 — Salinas, CA
(Photo above: Eric Smith, visiting fellow at Western Growers, and Jessica Bollinger of Arable enjoy the THRIVE Accelerator Seed Camp reception on Tuesday at the Western Growers Center for Innovation & Technology in Salinas. Credit: Jay Dunn/The Salinas Californian)
The winners of this year's THRIVE Accelerator Program in Salinas were announced on Tuesday evening at a reception at the Taylor Building, which officially kicked off this year's program.
THRIVE AgTech, which runs the program, is investing $1 million in this year's 10 winners. Winning companies (see bios below) receive $50,000 in cash and a program/mentorship and coaching valued at $50,000.
Participants are a geographically diverse group with four from California, one from Ohio, another from New Jersey, and the remaining based in Brazil, Ireland, Israel and Italy.
The program starts with an eight-week boot camp which combines classroom and online training, field tours and meetings with growers in Salinas Valley. On Wednesday, the agenda includes visits to Taylor Farms, Driscoll's Berries, and Hahn Winery.
Winners also have the use of the Western Growers Center for Innovation & Technology the agtech incubator in Salinas, and access to mentorship and coaching during the two-month period. At the end of the program, the companies showcase their products at the Forbes AgTech Summit, which will be held on June 28-29 in downtown Salinas.
John Hartnett, the CEO of SVG Partners, the Los Gatos-based consulting firm that runs the THRIVE AgTech programs, said there were 150 applicants this year from 30 countries, including 40 from California and three from Salinas.
This year's application pool included a rise in the number of women led companies from countries such as Brazil, China, India. Hartnett said there were more technologies focused on the consumer food marketplace and indoor agriculture environments.
While there were a high number of applicants in previous years, Hartnett said the program structure has changed this year with THRIVE AgTech expanding its programs.
New programs include the Open Innovation "Top 50" program, which focuses on more established agtech companies, and the Young Innovators Challenge to encourage budding agtech entrepreneurs.
AgTech may be a small and niche sector globally, but many of its supporters say that it is promising since it combines agriculture and technology both major global economic drivers.
At the same time, it seeks to solve significant challenges that the agriculture industry continues to face worldwide namely water and labor shortages.
Attendees of Tuesday evening's event included Salinas Mayor Joe Gunter, Hartnell College's President Willard Lewallen, and many of THRIVE's growing number of partners.
Key partners include the city of Salinas, Taylor Farms, Western Growers, Wells Fargo, Verizon and Land O' Lakes. Others include Driscoll's Berries, Yamaha, Panasonic, JV Smith, Coco-Cola and Samsung.
Continue reading article here:
http://www.thecalifornian.com/story/news/2017/04/11/10-named-thrive-accelerator-winners/100354152/
Tagged agtech, Salinas, Western Growers