Featured
Rural reboot: Salinas is turning crop pickers into computer programmers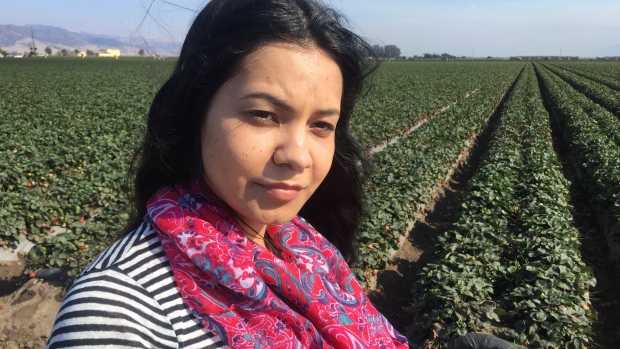 By Kim Brunhuber
CBC News (Canada)
October 5, 2016 — Salinas, CA
(Photo above: Adilene Constante, the daughter of crop pickers, is among the first graduates of a program that helps a new generation embrace technology to escape a life of back-breaking labour in the fields. Credit: Kim Brunhuber)
Whenever Adilene Constante passes one of the strawberry fields that rings the city of Salinas, California, she studies the little figures bobbing up and down in the distance, knowing there's a chance that one of them might be her mom, bending an average of 10,000 times a day.
"My parents work in the field all year round," Constante says. "They've worked a variety of crops, from grapes to onions to strawberries to almost any crop that grows here in the Salinas Valley.

"My dad would take day shifts, then come home, sleep for three hours, then go back to work a night shift. I didn't want a life like that for me," she says.
Now Constante is embarking on a completely different kind of life, thanks to an innovative college program and efforts to rebrand Salinas as the agricultural corollary of Silicon Valley.
Salinas Valley is only 45 minutes' drive from Silicon Valley, but it seems worlds away. The valley produces 80 per cent of the country's lettuce, but it's also known for something far less appetizing: poverty and crime.
"I'll be the first to admit that," says Salinas mayor Joe Gunter, who was a police officer here for 33 years. His city of just over 160,000 people recorded almost 40 murders last year and is on track to equal or surpass that number this year.
"The gangs are part of the problem, methamphetamines and drugs is the other one," Gunter says. "Some of it is caused by the fact that poverty is a problem, lack of a good education for some of the young people, so we're working on those issues."
Low education levels in Salinas
Salinas is California's youth homicide capital, according to the Violence Policy Center, and also the second least educated city in the U.S. Most youths end up working in either the fields or the streets.
Zahi Atallah, Hartnell College's dean of advanced technology, drives through Salinas' notorious east side, pointing out the cheap, high-density apartments that line both sides of the road.
"Only 12.5 per cent of the population has a bachelor degree or higher," Atallah says. "The vast majority work in agriculture."
But now his college has opened another path, turning the children of pickers into programmers.
Computer science degree in 3 years
Hartnell's CSin3 program is giving its students — 70 per cent of them Latino and about half of them women — a shot at earning a degree in computer science in three years instead of four.
Continue reading article here: http://www.cbc.ca/news/world/salinas-computer-science-program-1.3779690
###
Tagged CSin3, Hartnell College, Salinas, Salinas Valley