Companies
Santa Cruz New Tech Meetup Abuzz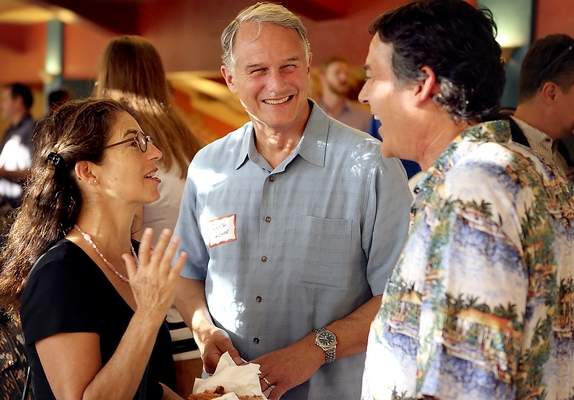 By Jondi Gumz
Santa Cruz Sentinel
(Photo above: Microsoft Vice President Dan'l Lewin, center, speaks with John 'Bud' Colligan, right, and Sara Isenberg at the Del Mar Theatre in Santa Cruz on Wednesday before presenting to the Santa Cruz New Tech MeetUp. Both Lewin and Colligan worked at Apple. Credit: Kevin Johnson — Santa Cruz Sentinel)
September 4, 2015 — Santa Cruz, CA
Santa Cruz New Tech Meetup Reaches 2500 Members
Tech startups Numerous, an app to keep all your important numbers updated and in one place, and Bastille a
network security company, are hiring in Santa Cruz.
Design by Cosmic will host a launch party Sept. 18 for www.ChooseSantaCruz.com, a new city website to help businesses get started.
Startups that are not quite ready to ask investors for money can get help from Mark Mitchell of Sand Hill Angels who will speak in Santa Cruz on Oct. 22.
That's the buzz from Wednesday's Santa Cruz New Tech MeetUp, which reached 2,500 members Tuesday.
More than 230 people came to the meetup at the Del Mar Theatre downtown to hear Microsoft's Dan'l Lewin talk about his company's global vision.
Continue reading article here: http://www.santacruzsentinel.com/technology/20150903/santa-cruz-new-tech-meetup-numerous-bastille-hiring
###
Tagged Santa Cruz New Tech Meetup