Companies
June Tech Meetup Rocks The Del Mar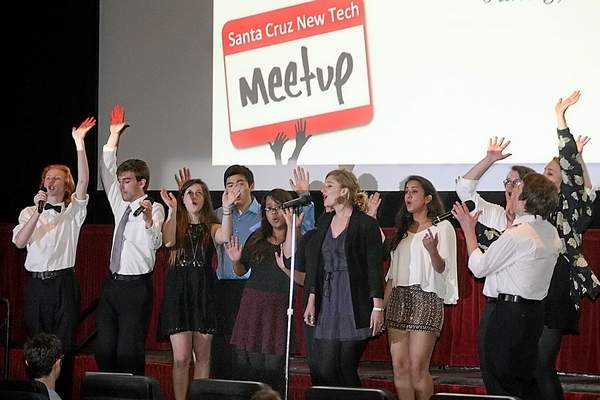 By Jondi Gumz
Santa Cruz Sentinel
(Photo above: UC Santa Cruz's Cloud 9 A Capella group opened the June Santa Cruz New Tech Meetup lastWednesday evening at the Del Mar Theatre. Credit: Dan Coyro)
[Editor's note: In a related article, Santa Cruz Tech Beat published Access to the Tools of Science Fiction, May 14, 2015, about the upcoming opening of Idea Fab Labs.]
June 5, 2015 — Santa Cruz, CA
Idea Fab Labs announces debut
On Friday, Santa Cruz will get a new social space for digital fabrication, Idea Fab Labs.
The announcement came Wednesday night at the Santa Cruz New Tech MeetUp, which is the hot spot for any new tech business in Santa Cruz and which brought more than 230 people to the Del Mar Theatre downtown.
Founder Doug Erickson was stuck in Boston, so Amanda Rotella and Mark Adams took over as co-hosts after an hour of networking and the sweet harmonies of Cloud 9, an a cappella group from UC Santa Cruz.
Idea Fab Labs will open on the second floor of the old Wrigley Building, 2879 Mission St. on the Westside.
The idea came from Erin Banwell, 36, who opened first in Chico, and in 30 months grew the enterprise to 95 members, giving people a place to work on electronics, woodshop projects, 3-D printing and laser cutting, to name a few.
The venture is funded by private investors.
There are no employees but 23 volunteers help out in exchange for a membership discount.
Not everybody knows how to operate everything and mentoring is available, Banwell said, emphasizing the community aspect.
About 15 percent of the participants are women, he said.
He started an artist in residence program that brought 11 artists, including one from Brazil, to learn how to use the equipment and create new cutting-edge art pieces.
Two of Banwell's buddies, Shannon Stillman, 38, and Corey Patterson, 35, who have been working at the Chico location, will run the Santa Cruz space.
Continue reading article here: http://www.santacruzsentinel.com/business/20150603/idea-fab-labs-announces-debut-at-santa-cruz-new-tech-meetup
###