Companies
Access to the Tools of Science Fiction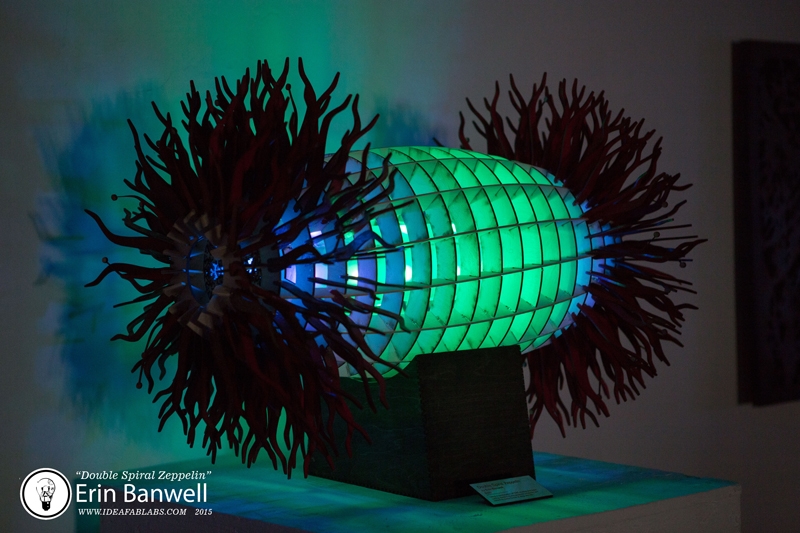 By Paige Welsh
Contributor, Santa Cruz Tech Beat
May 14, 2015 — Santa Cruz, CA
[Editor's note: Santa Cruz Tech Beat published New maker space opening in Santa Cruz in June.]
Idea Fab Labs comes to Santa Cruz to give makers the tools of the future
Have you ever needed a pair of pliers to pull out a memory card from a 3-D printer, and then used that same 3-D printer to print out the pliers? The founder of Idea Fab Labs, Erin Banwell, has. This June, he and one of his business partners, Shannon Stillman, are bringing two 3-D printers, a 3-D scanner, a laser-cutter, a CNC mill, a full metal shop and woodshop, and more to the new Idea Fab Labs branch in Santa Cruz, located in the old Wrigley Building at 2879 Mission Street. Like the ninety members who already participate in Chico, Santa Cruz members of Idea Fab Labs will have access to a workshop of the future along with safety courses, and member led classes. Banwell also plans on continuing the nonprofit Tech Art Incubation program, which gives artists a crash course on how to incorporate tech's newest tools into art.
Idea Fab Labs will be open to everyone from artists who would like to toast bread one pixel at a time with the laser cutter to entrepreneurs who would like to prototype the latest hack with the 3-D printer.
"We're almost totally member run. Community is really what makes this place run, so come on down and meet us," said Banwell.
The Toy Box
Banwell and Stillman believe the Santa Cruz maker community is ripe for the opportunity to use tools that are usually only available to professional manufacturers. Banwell, who was born and raised in Santa Cruz, is happy to make the homecoming. He saw the potential for incorporating technology into art as he used a laser-cutter for leather work while working for his father's company. Banwell created Idea Fab Labs in Chico to make the technology more accessible. Success in Chico inspired him to expand.
"I've had a lot of positive responses from all of my community at Santa Cruz. At the same time, I started thinking about how much more tech oriented Santa Cruz is than Chico. I quickly realized that Idea Fab Labs would do really well and provide a lot of great opportunities in Santa Cruz," said Banwell.
Watch: Idea Fab Lab's team assembles a scaled up version of David Seied's 3222 for the new Santa Cruz location:
Access to these tools makes the creation of large installation pieces like 3222 more feasible. 3222, a scaled up replica of David Seied's sculpture, is the first piece to occupy the Santa Cruz space. The 20 by 11 foot piece looks like a skeletal rainbow that twists from one end to the other with the otherworldly symmetry of an M.C. Escher lithograph. Banwell and his team cut plywood pieces with a CNC mill to shape the pieces of this behemoth. A CNC mill is like a programmable drill that can cut away material with a sharp rotating bit according to the user's commands for length, width, and depth. For example, if an artist wanted to create a sign shaped like a rock fish and engraved with the message "Keep Santa Cruz Weird," the artist could program the design, place the sign's material in the mill, and let the CNC mill carve out the rest.
The laser cutter has similar potential. While it cannot cut metals other than thin tin, the laser cutter has precision. The user can control the intensity of the laser to engrave or cut materials like wood or leather with precision any Bond villain would envy. The laser cutter can even toast bread one pixel at a time.
"Let's just say that Jesus toast is not hard to come by these days," said Banwell with a laugh.
The most sci-fi piece of the collection is the 3-D scanner. The hand-held scanner is about the size of a VHS tape. Users can scan objects up to 12 by 12 by 12 feet.
"You point at the thing you're scanning and you go back and forth, kind of like you're rolling paint on a wall. At the same time, you walk around the object and it all appears on the screen one stroke at a time," explained Banwell.
Users may even scan their friends and print them out as a 6 inch figurine on a 3-D printer. Banwell has used the scanner to make pieces such as The Vanishing Point and Labyrinth Mind by scanning parts of his friends.
In addition, Idea Fab Labs will have programmable tools like Arduino boards and Raspberry Pi Computers.
Members in Chico used Arduino boards and Raspberry Pi computers in developing an LED ceiling, made of 2880 LED lights, each of which can serve as a pixel.
"Each can produce over 3000 shades of color, so it is essentially a gigantic 37 by 45 foot low resolution video monitor. We plan on putting [together] a lot of member driven projects at Idea Fab Labs Santa Cruz, and there may be an LED wall or ceiling in the works," hints Banwell.
Art Technology Interface
Idea Fab Labs in Santa Cruz will charge $84-90 a month to have access to the 3-D printers, scanners, and the laser cutter, and $114-120 for a membership that gives access to those tools, plus the CNC mill. The price will go up once the early bird special ends. The price tag is steep for the starting artist or college student, but it is comparable to other Bay Area maker spaces like Tech Shop that charge between $116-175 a month plus additional costs for mandatory safety classes. The price is also appealing to prototyping entrepreneurs.
"If you look at rapid prototype fabrication, it is $5000 engineering costs to start with. Because we have a lot of things here, it's very cheap for you to do [on a membership]," explained Stillman.
Idea Fab Labs also supports IFL Arts:a project of The Hub for Direct Community Action, a non-profit tech art Incubator Program, which gives promising artists access to free training and tool access for eight weeks. Jacob Troester, who is trained in ceramics, participated in one of these eight week sessions. He describes his previous tech skills as "limited to navigation of the internet."
"Without the presence or evidence of the maker's handling of a piece of art, it can feel flat and without spirit. One of my aims going into the experience was to maintain a clear presence of my handling of the materials but at the same time incorporate elements which simply could not be produced without the use of these new technologies," said Troester.
Troester describes a positive experience, and says he is excited to use the laser cutter on traditional mediums such as ceramics and print making in his future work.
Another artist, Christopher Breedlove, is using the skills he learned at Idea Fab Labs in his current projects.
"I [use them] every week. Last summer I ended up doing the interior design of a crystal shop in Chicago. We just layered the entire interior with lasered hard wood," says Breedlove. Breedlove says he wouldn't change a thing about his time at Idea Fab Labs. "It's often the artist's job to bring new tech and new ideas to people in a comfortable way. Idea Fab Labs is holding space for people to be able to do it," he says.
Idea Fab Labs is applying for funding from the Andy Warhol Foundation to cover the material and housing costs of the artists in the program. The funding would also mean being able to pay all the volunteers who make the program possible.
"Most of the tools at the Labs are expensive and without the impressive efforts of the crew who started it and keep it operating, low-income makers interested in accessing such tools are shit out of luck. The Idea Fab Labs are revolutionary in that they democratize these tools and technology," said Troester.
What Makes a Maker Space?
The artist incubation program as it is would not be possible if the members of Idea Fab Labs were not invested in something more than a business transaction. Members host classes free of charge and give hours of their time to assist with gallery exhibitions. Installation pieces like the LED ceiling and 3222 are not credited to one person, but a whole team. These collaborative efforts christen Idea Fab Labs as not just service, but a maker space.
"It's a place where you can have an idea and not know a couple pieces of it. A maker space allows those people with those idea, those little fill in gaps to meet as a community. Not everybody is going to have all the answers. It's making 'The sum is better than the parts' work," said Stillman.
In a time when most products are made in factories, often overseas, makers are reclaiming craftsmanship. They're eager to use whatever tools are available.
The future of the 3-D printer is particularly promising. Creators can choose to make their designs open source so anyone with a 3-D printer can print them at home. Simple tools and parts, such as replacement drone blades, are already available.
While some are wary of the growing proliferation of technology in our society, maker spaces like Idea Fab Labs are the counter argument. As tech expands, some people are not growing more glued to their screens, but coming together to cultivate art and invention.
For more information: http://santacruz.ideafablabs.com
###
Paige Welsh is a marine biology major and literature minor at UC Santa Cruz. She can be contacted at phwelsh@ucsc.edu.
Tagged Idea Fab Labs