Companies
Q&A: Merging art & tech with Idea Fab Labs co-founder Jordan Layman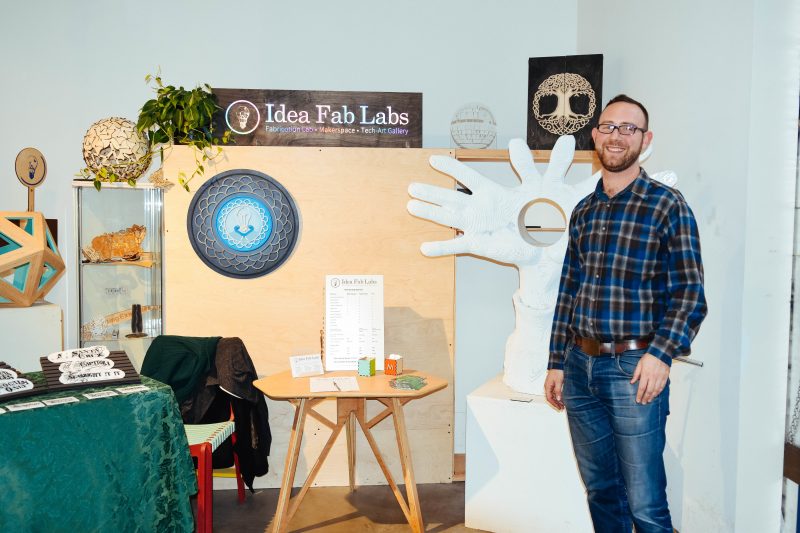 By Madison Eadie
City of Santa Cruz Economic Development
(Photo above: Jordan Layman is the co-founder of Idea Fab Labs. Credit: Madison Eadie)
March 5, 2019 — Santa Cruz, CA
Idea Fab Labs, located in the industrial Wrigley building, is integrating art and technology by providing the community with a space to create art with fabrication tools, like 3D printers and laser cutters. Holding many different work spaces, members have the option to explore and learn from watching other members at work to expand their artistic horizons. I sat down with co-founder Jordan Layman to learn more.
Please introduce yourself and describe what you do.
My name is Jordan Layman and I am a co-founder of Idea Fab Labs, located in both Chico and Santa Cruz. We started our first facility up in Chico in 2013, and then we started our facility here in 2015. I'm basically in charge of making everything happen- managing the volunteers, fixing the equipment, outreach, etc.
Tell us about the company's core values and what you envisioned creating.
One of the things we do is show the fusion between art and technology. This has been a constant theme. That's not necessarily the business model, but it's certainly the vision.
The basic framework is community access to fabrication tools. Tools like laser cutters that are really expensive for you to buy as a user, but we can give you access to it, collectively putting our energy together.
There's also an education component to it, so we have a framework for classes and workshops. Right now it's expressed mostly through horizontal peer-to-peer learning, where people learn a lot from being here and talking with other people about what they're doing, and asking for help when they need it. It's a community.
Continue reading here: https://choosesantacruz.com/journal/2019/idea-fab-labs
###
Tagged Idea Fab Labs