Companies
Explore what Santa Cruz makes at Maker Showcase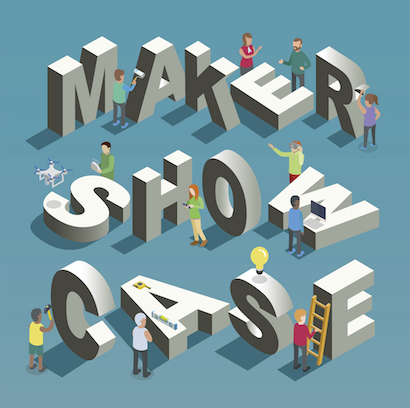 By Sara Isenberg
Founder, Publisher, Editor-in-Chief, Santa Cruz Tech Beat
September 6, 2017 — Santa Cruz, CA
Idea Fab Lab (IFL) came on the Santa Cruz scene just over two years ago.
With a focus on innovation, design, education, and arts, IFL is a member-driven "creation zone" located on the Westside of Santa Cruz.  They provide a space "for technical and artistic minds to come together and build a community."
On Saturday, September 16, 2017, IFL opens its doors to the community for Maker Showcase Santa Cruz.
Maker Showcase Santa Cruz
Saturday, September 16, 2017, 11am-4pm
2879 Mission St., Santa Cruz
Family-friendly and free to attendees
This event aims to highlight innovation and experimentation across a variety of creative realms and to celebrate what makers do — what they make, how they make it, and the enthusiasm and passion that drives them. Enjoy a full gallery of community submitted art, various exposés, demonstrations, and take something home from one of many craft vending booths!
Learn more here
What is Idea Fab Lab? (From the website:)
Innovation

Idea Fab Labs is an open environment meant to foster innovation through hands-on learning and collaboration. Idea Fab Labs encourages an open source culture.

Design

Design is a big part of digital fabrication. Tools such as the Laser Cutter and 3D Printer lend to rapid prototyping, allowing for a project to go from concept to physical reality in moments. This results in quick development of new design ideas as a rapid succession of prototypes can be created, tested, and improved on.

Education

Idea Fab Labs is a learning environment. Members may take and teach classes, lectures or workshops and peer-to-peer learning and open-source cooperation are encouraged.

Arts

Science is beautiful. IFL Arts  is a project of The Hub for Direct Community Action 501c3. The mission of IFL Arts is to explore the line where art and technology meet by providing artists access to cutting-edge digital design and fabrication tools, accompanying approaches, and other relevant emerging technologies. IFL Arts outreaches to established local, regional, national and international artists to mentor them in developing interest and skill to express their talent through innovative and inventive projects. These explorations culminate in cutting edge tech art gallery exhibitions shown at both the Chico and Santa Cruz IFL Arts Gallery locations.
###
Tagged Idea Fab Labs